The Prince series team, starring Mohammed Ramadan, starring to complete the filming of the series, which is scheduled to be shown in the Ramadan drama race 2020, and the artist Ahmed Zahir published a picture through his account on Instagram, which collected part of the seriess cast, including Mohamed Ramadan, Naglaa Badr, Edward, Reem Sami, Salwa Othman, Ahlam Al-Gretly, Mohamed Alaa, Rehab El-Gamal, and others.
Zaher commented on the photo, saying: "Say I seek refuge in the Lord of the Falaq, part of the cast of the Prince Ramadan series 2020, written and directed by Muhammad Sami, produced by Synergy, oh Lord, write to us the amazing success with your permission, O Lord."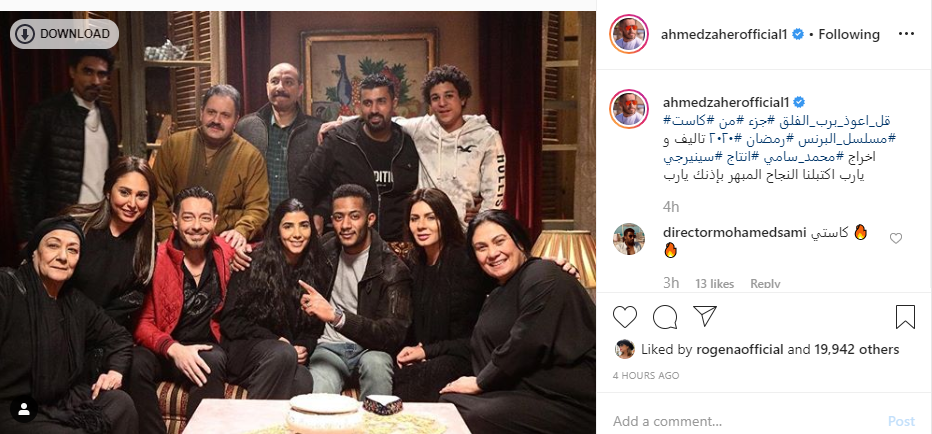 The artist Ahmed Zahir, published a picture of the first scene he gathered with the artist Mohamed Ramadan, and commented: "This picture is the first scene that combines me with Mohamed Ramadan. Not only in the series, not in life. I personally, I enjoyed, oh Lord, we wrote the impressive success with your command, O Lord, our valley has become tired. Our diligence, the Prince series, written and directed by Mohamed Sami Ramadan 2020.
The family of the "Prince" series, starring the star Mohamed Ramadan, had a 15-day vacation to move to other decorations, after the team finished filming 5 whole days inside the first decoration in the Media Production City, and during the filming, Mohamed Ramadan and Najla participated Badr, Ahmed Zahir, Salwa Othman, Ahlam Al-Greatly, Edward, Reem Sami, and Muhammad Alaa.