Criticized Lebanese actress ElisaAnd the Lebanese government and system after its failure to fulfill any promises it made to the demonstrators throughout the period of demonstrations in the months and past, upon which the evacuated citizens of the streets and returned to their work again to give the government the opportunity to implement what it had promised, and Elisa tweeted on her official account on Twitter, today Tuesday, as it called for a new demonstration in the streets of Lebanon in order to put pressure on the political system to fulfill the demands of the demonstrators and revolutionaries.
"Elisa" wrote through her account: "We made a revolution and drunk the roads, you said you did not break the work. ".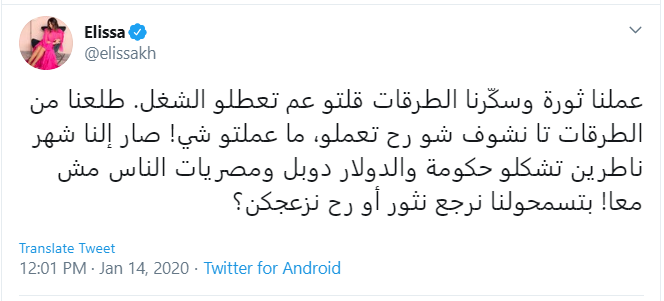 Elissa attacks the government on Twitter
Earlier, the Lebanese actress Elissa, in a tweet on her on the social networking site "Twitter", expressed her dissatisfaction with the critical situations that Lebanon is going through, saying: "There was a dimension in the United Nations that we did not like before us! We are a country that participated in establishing the United Nations, and put Its legitimacy, is connected to a stage that does not push two years for contributions and we cannot vote. All we think is that you guided us to another, please come back and shock us! O defect of the government.
This came as a comment on Lebanon's loss of its right to vote in the United Nations after its failure to pay the financial dues owed to it by the United Nations for a period of two years. Lebanon was not the only one that was unable to pay, but was joined by 9 other countries, including the Central African Republic, The Gambia, Somalia. Yemen and Venezuela.
According to the laws of the United Nations, a country that fails to pay two years is not entitled to vote in the General Assembly. The General Assembly may reconsider allowing the member state to vote if it is convinced that force majeure circumstances outside the control of the member state have resulted in failure to pay.