Foot Director Ramy Imam A surprise for his followers, a fan of the family of the leader, Adel Imam, on his account on "Instagram", today, Thursday, when he published a video clip of his son, Adel Imam, the grandson, in which the grandson thanked the audience for their admiration for his short film, which he published on YouTube a few days ago, and was announced a few days ago by Rami Imam Khudh His son Adel tried to direct short films alongside a number of his friends, and the film was presented to the public to know their reactions to the experience of Adel Imam's grandson.
Ramy in front of, and just in front of the grandson
Rami Imam said at the beginning of the video, addressing his fans: "O group, I brought the day to the groom with the video." Then the grandson spoke, saying: "O, O group of workers, what do I like? I thank everyone in you and everyone has seen the video with my support, and I love to thank my parents for my support and everyone has Comments, whether sweet or his beast, put them on the film. "Then the camera returns to Rami Imam, who supported his son and asked him to continue.
Director Ramy Imam had announced the completion of filming the series "Valentino", after two months of continuous work, to start the "montage" stage, in preparation for its presentation in the upcoming Ramadan drama season, and Rami Imam published photos of him during the production of the series, through his account on "Instagram" He said, "In the montage after the last two months of viewing."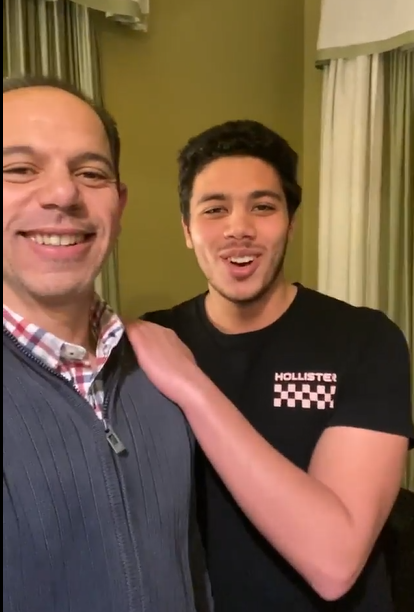 Within the events of the series "Valentino", the leader embodies the role of a businessman who is the owner of an international school group named Noor Abdul Majeed Valentino, and he faces throughout the events problems and crises faced by the chain of schools he owns, in addition to entering into many emotional stories..
Along with the leader Adel Imam, Dalal Abdel Aziz, Dalia Al-Beheiri, Wafa Sadiq, Tariq Al-Ebiary, Hoda Al-Mufti, Muhammad Kailani, Rania Mahmoud Yassin, Ilham Abdul-Badi, Suleiman Eid, Badria Tolba, Ahmed Farid and a number of other artists will participate in the championship.