<
div id="articleBody">
The field of robotics is one of the most important specialties of the future, and is witnessing an unparalleled development, and the world is surprised every day by entering the robot in many fields of military tasks and the end of preparing food in the kitchen.
And one of the last things that science revealed in this field was what was announced by a company, which is a robotic assistant that performs many tasks in the kitchen, called "Pot Chef", which uses two moving arms to collect food recipes, flipping, pouring, and preparing them in advance.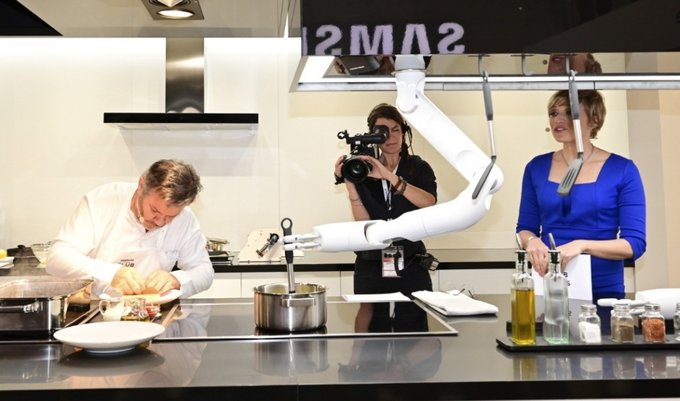 The robot is designed for slicing, mixing and seasoning food recipes, and uses voice recognition technologies to execute user orders, according to the British Daily Mail.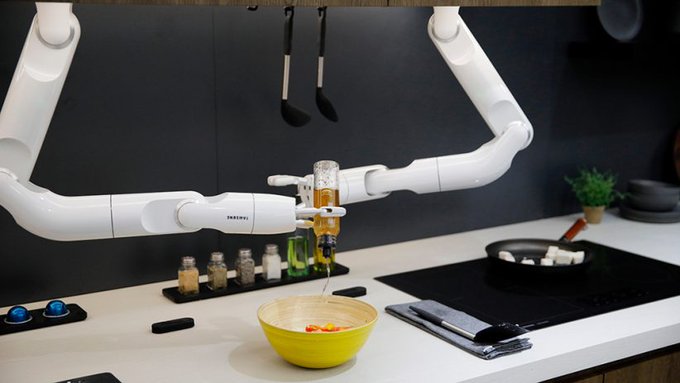 It was back days ago also during CES The largest exhibition of consumer electronics, a shark-shaped robot that can be equipped with any camera, along with its support with a propeller system, making it ideal for marine surveillance without being detected, as the robot that was shown at the Las Vegas exhibition reveals that future military surveillance will be more like marine creatures moving In the water to collect data.
According to the British newspaper "Daily Mail", this robot is called Robo-Shark, And it is allowed to carry any camera, communication device or sensor, as these technologies are combined with the tail fin propulsion system, to turn this robot fish into a silent monitoring machine.
Also the Japanese robotics company offered Omron Early January this is her new robot who can play table tennis in CES The largest exhibition of consumer electronics, which is called ForpheusWhere the company was able, through the new emotional recognition system that measures the level of frustration and skill of players, to make the robot reduce his skills and lose if he feels the player's frustration and reduce his mood.
And the robot system monitors players closely, as they compete with robots in ping-pong, has the ability to read players 'face and even heart rate, and then interpret that information to make inferences of skill and mental status.
As for the strangest robots, a human-like face robot mimics natural facial expressions, taking the form of the famous actor Arnold Schwarzenegger, in CES The largest exhibition of consumer electronics, where he answers the questions of the people and interacts with them, until he receives some jokes, and his response came to questions such as "What is the largest country in the world?" And "How do you feel about humans?" With varying degrees of success, this new product belongs to the Russian robotics company Promobot.
This robot is calledAndroid Robo-C"Although this is not the first time for Promobot In a gallery CES, But it is the first for Robo-C , Which is positioned as a kind of stereoscopic office assistant that can handle customer inquiries and call a smart home to help people interact with other gadgets.
Also last week, Agility Robotics announced the official release of its two-legged delivery robot called "Digit", which could put an end to problems that troubled delivery companies for a long time, "Digit" features two robotic legs and arms that can pick up and hang packages weighing up to 40 pounds, as well System support LIDAR That would allow him to avoid environmental barriers and complete basic spatial tasks such as delivering the parcel to another person.
The company believes that the robot may be useful in a number of other settings, including taking inventory to the warehouse, or checking factory equipment, as well as collecting information about the city's infrastructure while it is on the way to delivery.