Barcelona coach, Kiki Cite, confirmed that he never dreamed of taking the Blaugrana training one day, thanking Josep Maria Bartomeo, President of Barca, and Eric Abidal, technical secretary of the Catalan team, and the Barcelona team had officially announced Kiki Seten named former Real Betis coach, Barcelona coach He succeeded Ernesto Valverde, who was sacked after the loss against Atletico Madrid 3-2 in the semi-finals of the Spanish Super Cup in "Jeddah".
"I thank this wonderful institution and thank Bartomio and Abidal. I have never dreamed in my life that I will one day be in Barcelona, ​​and this is a special day for me. I have a great desire to face this great challenge, and the most important thing is to communicate ideas to players, relying on Players and the desire to win and trust. "
He added: "Yesterday I was with the cows on my small farm, and today I train the largest team in the world, and I cannot make the name of this club better, because it reached the top, I have a good relationship with Valverde and he is wonderful and a special opponent when I faced him, and I value very much his work and personality."
He explained: "Of course we will be in the best position to present the best job, but the real work is here, I have certain convictions, this is my life style, and I will continue to do so here. It is difficult to come out of my convictions in my mind, I defend my training style, and I die from For players' sake.
He continued: "My goal is to win everything possible, this club does not have another way, only to improve, and to achieve all titles besides playing beautiful ball, the best way to win is to play beautiful football, sometimes it does not win, but you must play in a beautiful way." .
On the Argentine star, Lionel Messi, Sittin commented: "I train Messi, the best in the world, something indescribable. I like dreaming. The truth is I told Messi, I like you, I sit and watch it always, enjoy what it offers."
Kiki Sittin, the new Barcelona coach, continued his speech, saying: "Every time a new coach always comes, there is a new spirit in the players, and he notices immediately, and with the passage of time he goes, but this change is positive, we must maintain the same sense of the first training, there is no coach that looks like Another coach, every coach has a special style with the players, I don't know whether my style is better or worse. "
He continued: "If I thought that everything is fine, this is a mistake, it is difficult for everything to be fine, I must persuade the players to the project and communicate the small details, and communicate with the players. I worked with 20 coaches in my career as a player, but each coach is different, I He comes out with a big card, has clear ideas, and we know Barcas personality. "
About the coach, Ernesto Valverde, said Sittin: "I was in the dressing room today and watched Valverde bid farewell to the players. ".
He continued: "We thank Valverde for his work, and what he did with the team, and it is not easy to receive team training in the lead, and today I found that the players have a great desire to work, and they will understand the ideas quickly, there will be no difficulties to maintain the high level, and that Do not run away from us as a super game. "
Regarding the way Barcelona plays, Kiki Sittin commented: "I have known Barca for a long time, and I have clear ideas that must reach the players. We must work to achieve this on the ground. The victory today is over. We must think about the next match and so on. We must think about the greatness of this." Team, and this is an incentive for players and coach. "
On the injury of Uruguayan Luis Suarez and his absence from Barcelona for the end of the season, Sittin said: "We will see how we will replace Suarez, the reality is that if you do not coexist with the players you cannot know them well and where they can arrive, everything happened quickly, today I get to know the team, and there are things We have a lot to talk about, and we implement it in training and in matches. "
He added: "I am worried about Suarez, who is injured. As for tactical painting, the important thing is philosophy. This is something I do not change. We must be clear about what we are playing. Let's appreciate the value of change 4-3-3 or 4-4-2, but philosophy does not." Change, while the tactical graphic can be changed. "
Kiki City concluded his remarks by saying: "It didn't take 5 minutes to say yes to Parsa. It was a surprise when I was informed yesterday, I do not have degrees, my CV is not very large."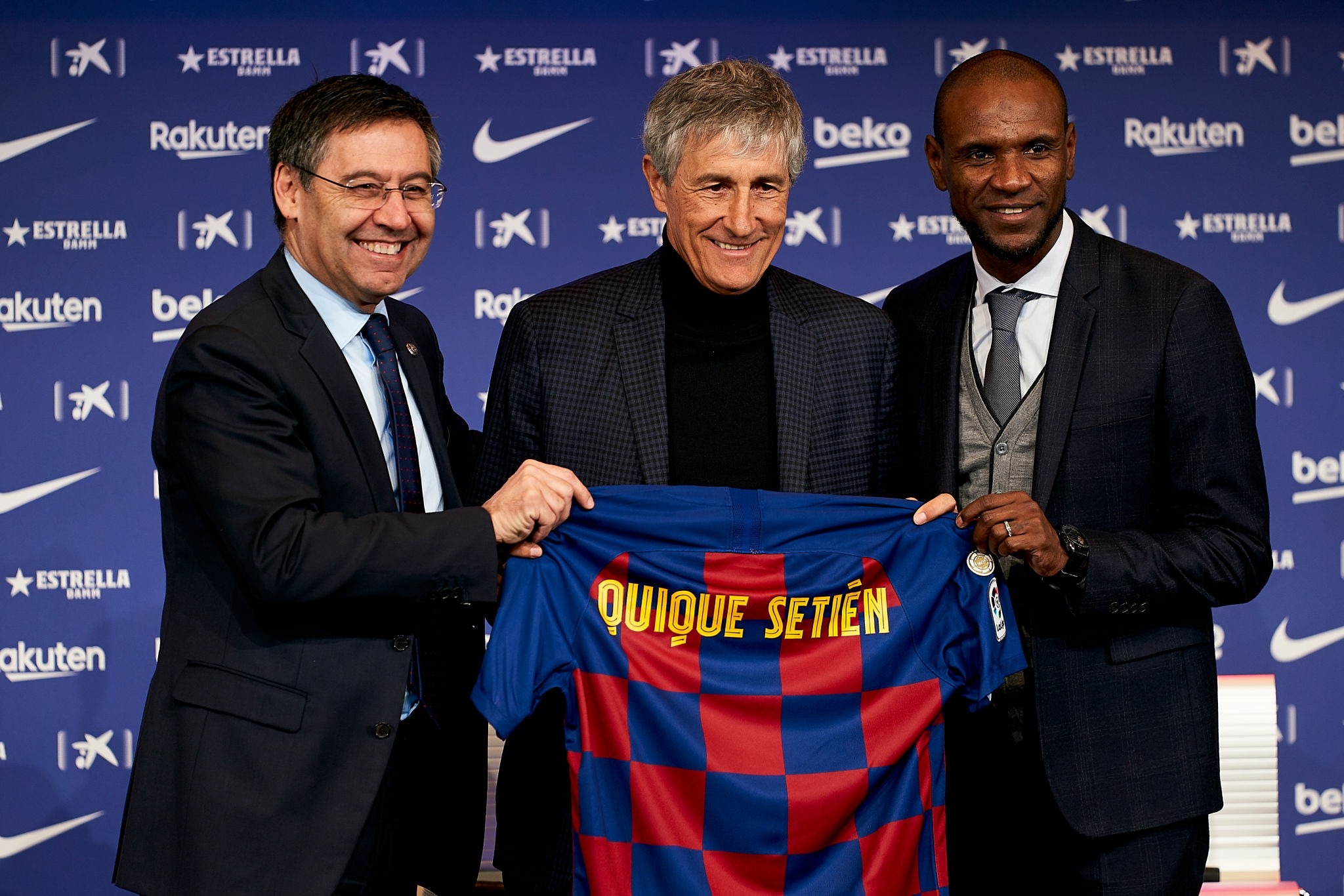 Introducing the new Barcelona coach Kiki Sitten