<
div id="articleBody">
Mohamed Mahmoud Abdel Aziz celebrated a birthday The artist Yasmine Abdel AzizHe wished her good health, and published a picture she collected with his brother Karim and the artist Yasmine Abdel Aziz, through his account on Instagram, accompanied by a comment: "Every year, you are good, and we are all together, you are the sweetest jasmine in the world, and the wish of a million years, God willing, and you are in the best health and best condition oh Allah".
The star Yasmine Abdel Aziz is going to the next Ramadan race in the series "We Love Tani Les", produced by Synergy Company, and the artist Sharif Mounir, the artist Karim Fahmy and the artist Sawsan Badr joined the series, which is written by Amr Mahmoud Yassin, directed by Mostafa Fekry, where the company currently producing Abram The rest of the contracts with the actors.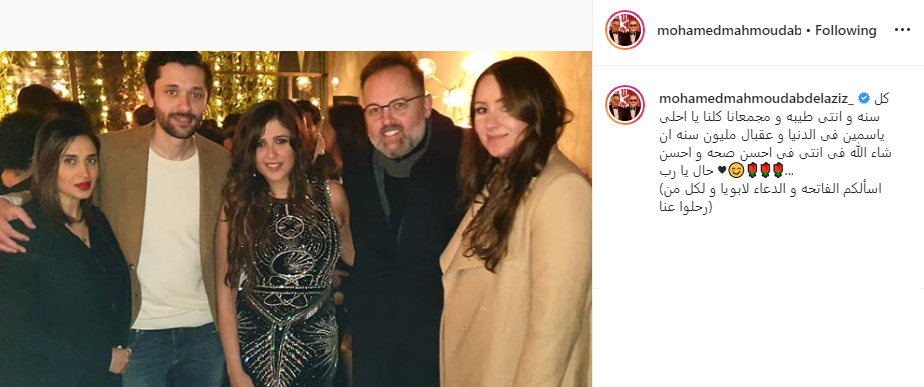 In the same context, the author Amr Mahmoud Yassin has finished writing the first 5 episodes of the series Yasmine Abdel Aziz, "We Love Tani Les", and he is currently writing the remaining episodes to deliver the first 10 episodes of the series to the producing party, and Yasmine Abdel Aziz appears in the series as a wife who separates from her husband and how The decision of the separation affected her family, after she decided to choose a social, romantic topic for the woman to present in the drama.
Yasmine Abdel Aziz stayed away from the comedy in the drama for the second year in a row, after she presented the Esperance and the suspense in the series "For the Last Breath" that was shown last Ramadan, which was her second heroism in the TV drama, where she presented the first championship in the series "Harbana from it" and relied on it Comic color.