<
div id="articleBody">
A strong relationship brought together art stars Sharif Munir Ahmed El-Sakka, Karim Abdel Aziz and Ahmed Helmy, both on the technical level and their participation in many TV and film works, or on the level of friendship and human relations that bring them together.
Artist Sherif Mounir published a picture of him collected by Sakka, Karim and Helmy, through his account on Instagram, and commented on it, saying: "We have said a lot, we have not seen some, dearest friends … no … sisters."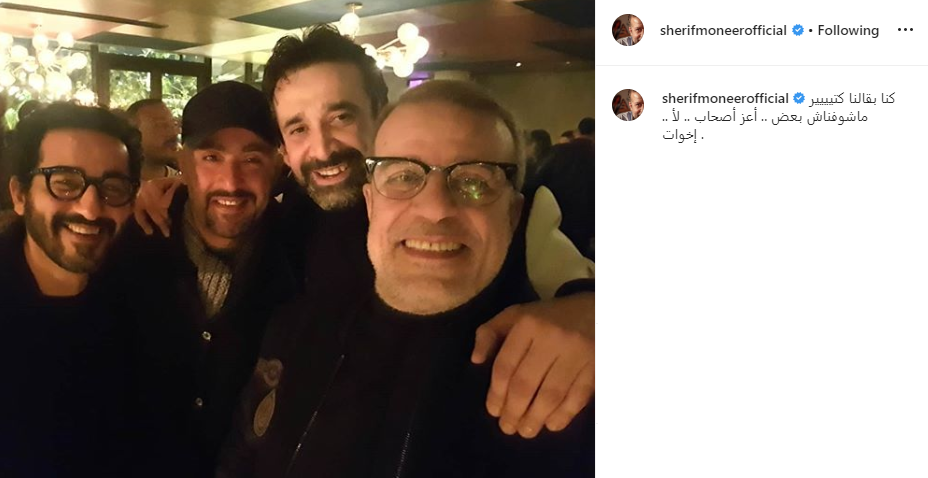 On the other hand, the star Sharif Mounir embodies the personality of the star of the star, Yasmine Abdel Aziz, in the series "We Love Tani Les", written by Amr Mahmoud Yassin and directed by Mostafa Fekry and produced by Synergy Company. The events appear after the couple's life after separation in a social framework.
The series "We Love Tani Les" starring Yasmine Abdel Aziz, Sherif Mounir and Karim Fahmy, and the selection of the rest of the artists participating in the action championship, which takes place in a social and romantic framework interspersed with some comic scenes, about the problems of the couple and the family in general, where an issue is discussed from the reality of society and suffers from it Most couples.
Sherif Mounir returns to the drama in "We Love Tani Les" after his absence the past two years, where his latest series "Al Zibak" was the first part with the star Karim Abdel Aziz and written by Walid Youssef and directed by Wael Abdullah and it was shown in Ramadan 2017, and co-starred by Reham Abdel Ghafour , Talaat Zakaria, Carmen Labbas, Fadi Ibrahim, Muhammad Shaheen, Edward, Sahar Al-Sayegh, Hadi Al-Gayar, Nahla Salama, Tamim Abdo, Rami Waheed, Screenplay and dialogue by Walid Youssef, Production by Loay Abdullah, and directed by Wael Abdullah.
Sharif Mounir also depicts his viewers in the movie "Day 13" with director Wael Abdullah with the participation of Ahmed Dawoud, Dina Al-Sherbini, Nisreen Amin, Jumana Murad and a number of guests of honor. Starring Iyad Nassar, Anja, Lt. Col. Sherine Reda, Basma, and Ahmed Malik.