Led The artist Nashwa MustafaUmrah rituals in the Kingdom of Saudi Arabia, and I have been keen to pray for a number of departing artists from in front of the Holy Kaaba. The artist has published pictures of the names of those whom she assigned to pray from the Holy Mosque in Mecca, through her personal account on the Instagram site, and commented on her: "A thousand mercy and light .. she worked Umrah, and a thousand mercy and light were invited to loved ones.
"After Umrah, I was invited to Habayeb a thousand mercy and light," added Nashwa Mustafa, in another post via her account on Instagram from within the Great Mosque of Mecca. The departed artists whom Nashwa Mustafa assigned to pray during the performance of the Umrah pilgrimage were: Haitham Ahmed Zaki, Ahmed Zaki, and Mahmoud Abd Al-Aziz, Nour Al-Sharif, Mohsen Helmy, Sanaa Younis, Souad Nasr, Izzat Abu Auf, Talaat Zakaria, Mamdouh Abdel-Alim, Ahmed Al-Sayed, Ahmed Tawfiq, father of the artist Ihab Tawfiq, Souad Hosni, Fayza Kamal, Farouk Al-Fishawy, Mahmoud Al-Jundi, and Sami Al-Adl.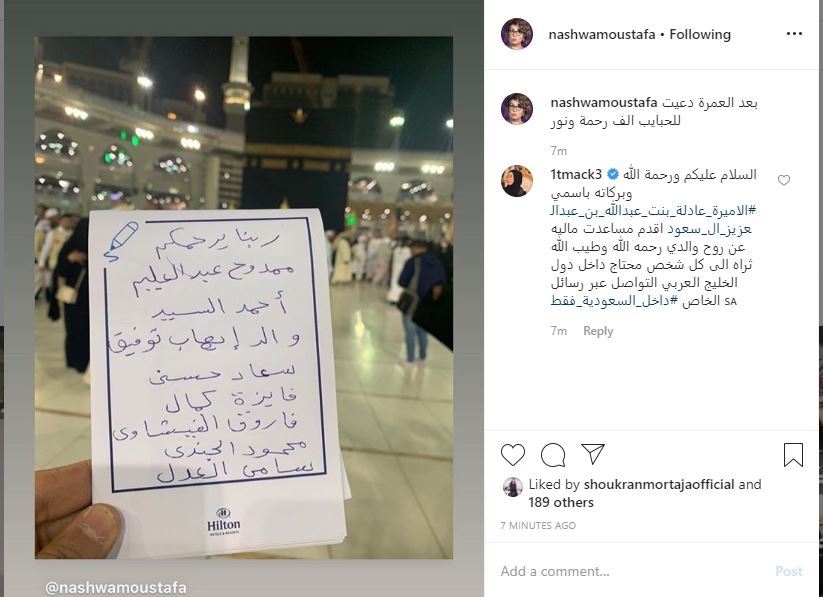 It is noteworthy that the star Ihab Tawfiq, had received condolences in his late father, on Sunday evening, at the Mosque of the Field Marshal Tantawi in the fifth assembly, amid a large number of stars of art, sports and politics who were keen to console Ehab in the moments of sadness that he is going through with the separation of his father who left Our world, last Thursday, in a fire accident, charges the villa where he lives, suffocating, causing his death.
Among the most prominent stars who performed condolences were Hussein Al Jasmi, who was the first to attend and participated in receiving condolences alongside Ihab Tawfiq, and Leila Alwi, Mustafa Shaaban, Mustafa Qamar, Hamada Hilal, Rami Sabri, Dalal Abdul Aziz, Donia Samir Ghanem, Emmy Samir Ghanem, Sherry Adel, Khaled Ajaj, Mustafa Shawky, Majd Al-Qasim, Mohamed Mohy, singer Hisham Abbas, popular singer Tariq Al-Sheikh, Latifa, singer Ahmed Gamal, Hossam Hosni, Nasr Mahrous and his brother Hany Mahrous, singer Shaza, Hegazy Metkal, Tariq Abdel Halim.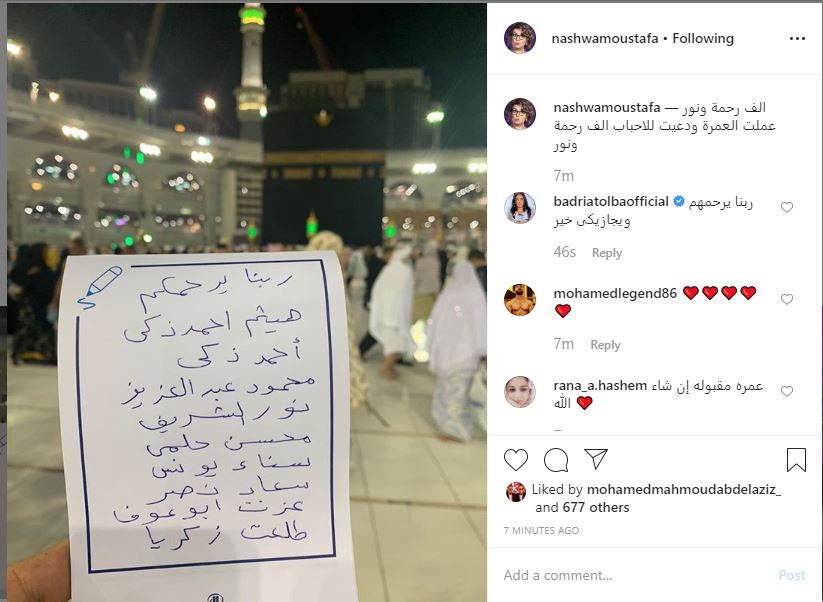 Also in attendance was Fifi Abdo, Mona Abdel Ghani, Mohamed Zidan, former Egyptian national team player and star Khaled Selim, Ashraf Zaki, captain of the acting professions, Salah Abdullah, Hany Ramzy, artist Ahmed Badir, artist Mirhan Hussein, Majed Al Masry, artist Mohamed Mahmoud Abdel Aziz , Amira El-Aidy, director Amr Abdin, Mostafa Kamel, Nihal Anbar, Emad Ziada, Amina, Mai Kassab, Hamid El-Shaaary, singer Alaa Abdel-Khaleq, composer Walid Saad, singer Issam Karika, artist Madeleine Tabr, singer Helmy Abdel-Baqi, singer Carmen Suleiman And her husband, composer Mostafa Gad, artist Ihab Fahmy, artist Sherif Bahir, Mostafa Haredy.
The public and media figures attended, Taher Abu Zaid, former Minister of Youth and Sports, and Chancellor Ahmed Al-Zind, former Minister of Justice, media Wael Al-Ibrashi, media member Khairi Ramadan, media person Tariq Allam, media personality Suhair Shalaby, and a number of football players, including Shadi Muhammad player Former Al-Ahly, Khaled Bebo, former Al-Ahly player, Hisham Hanafi, former Al-Ahly player, Ayman Bagato, former Zamalek player, Abdel-Zahir El-Sakka, former Egyptian national team, and others.