Omani artist Buthaina Al-Raisi apologized to the Kuwaiti people after publishing a picture of the late Sultan Qaboos bin SaeedAnd with the former Iraqi President Saddam Hussein, I was subjected to a sharp attack by Kuwaiti followers after publishing the photo through her account on "Snapchat".
Through a video clip, Buthaina Al-Raissi apologized to the Kuwaiti public as she cried while speaking, saying that she did not intend to publish the image of Saddam Hussein's presence until she saw in the published photos the image of Sultan Qaboos only confirming her love for the State of Kuwait that she considers herself a Kuwaiti citizen and studied in Kuwait and her Kuwaiti husband.
"What I did wrong and unintended, this image came from one of my followers, and I did not review it before it was published. This is my mistake and I admit it. I had to return all the pictures, but in my case I did not allow me to return every post."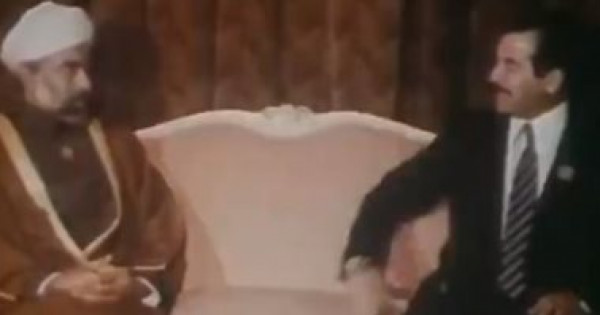 Deleted image
Sultan Qaboos, the Sultan of Oman, departed from our world, after a wise and triumphant march full of giving that covered Oman from one extreme to the other, and extended to the Arab, Islamic and international worlds. Western countries and the United States, and put the seed of the first negotiations between Tehran and the West, which eventually led to the conclusion of a nuclear agreement in 2015, while Muscat also hosted secret talks between US and Iranian officials in 2012, and Oman also mediated between Tehran and Washington to release prisoners..
In 2009, efforts succeeded in releasing 3 Americans imprisoned in Iran on suspicion of being spies after they lost their way across the border..
After announcing the news of the death of Sultan Qaboos bin Said, the official television in the Sultanate of Oman announced the inauguration of Haitham bin Tariq Al Said as the Sultan's successor.