Computer sales grew in 2019 after falling into decline over the past seven years, according to a report from Gartner and IDC Market Research, with a total of 70.6 million units of computers shipped in the last quarter of 2019 – an increase of 2.3 And percent of the last quarter of 2018, according to Gartner, comparing total shipments in 2019 to shipments in 2018, it grew by 0.6 percent last year – which means shipments of 261.2 million units in 2019.
According to the American mspoweruser website, the IDC data differs slightly from the Gartner data, according to the IDC, fourth quarter shipments reached 71.8 million units, which represents 4.8% growth, while 266.69 million computers were shipped, which represents a 2.7 percent increase on Annual basis.
Perhaps the reason Gartner data differs slightly from the IDC data is due to its different methodologies in calculating shipments, as "Gartner data includes desktop computers, laptops, and high-speed devices (such as Microsoft Surface), but not Chromebooks or iPads, and IDC counts devices Desktop and laptop computers (including Chromebooks) and Workstation, but not tablets or x86 servers. "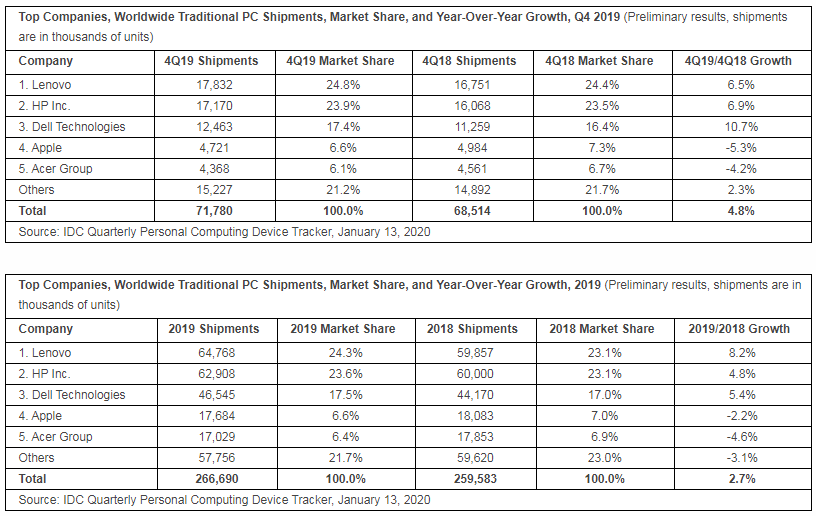 "The PC market experienced growth for the first time since 2011, driven by the active commercial demand for Windows 10 upgrades, especially in the United States of America, the Middle East, Africa and Japan," said Mikako Kitagawa, senior chief analyst at Gartner. Growth this year even after Windows 7 support ends this month, as many emerging companies such as China, Eurasia and emerging Asia / Pacific have not yet been upgraded. "
While research firm IDC and Gartner believe that the Intel CPU shortage impacted the market in the last quarter of 2019, however, AMD managed to recover the damage caused by Intel CPU shortage.