Overflow The star Ahmed FathiAl-Ahly club player, the dispute between him and the newly-joined Mahmoud Kahraba player for the Red Castle in the contractors match, and Ahmed Fathi published a picture of his gathering with the newcomer Kahraba at his official account on the "Instagram" site to celebrate the victory over the Arab contractors, where the Al-Ahly and the contractors match witnessed a light words argument Between Mahmoud Abdel-Moneim Kahraba and Ahmed Fathi in the 81st minute of the match, which ended in reconciliation between the two parties.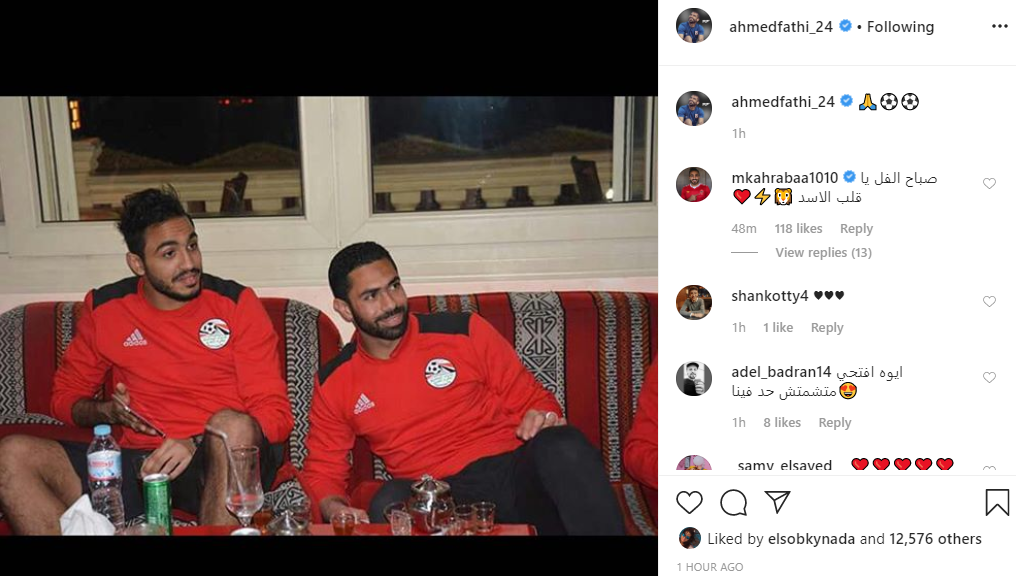 Ahmed Fathi and electrified after the Arab Contractors match
More than one player, the most prominent of them Walid Suleiman, intervened to calm the duo Fathi and electrified. After the truce, he went electrically under the direction of Walid Suleiman to Fathi and before his head to end the situation quickly.
The match ended with Al-Ahly's victory over the Arab contractors with two clean goals scored by Hussein Al-Shahat and Walid Suleiman, raising the team's red balance to 36 points.
Ahmed Fathy and electrification
The match between Al-Ahly and the Arab Contractors ended with the victory of the Red Team with two clean goals scored by Hussein Al-Shahat and Walid Suleiman in the 20th and 80th minutes, during the match that took place between them yesterday evening at Al-Salam Stadium, which came in the 14th round matches of the Premier League, with this result Al-Ahly raised its score to point 36, occupying the top of the table Ranking of the general league competition, while the balance of Arab contractors stopped at point 29, finishing second.
The formation of Al-Ahly in guarding the goal included: Mohamed El-Shennawy, defense line Ahmed Fathi – Rami Rabia – Yasser Ibrahim – Ayman Ashraf, midfield Mahmoud Metwally – Amr El-Soulia – Mohamed Magdy "Afsha" – Hussein Al-Shahat – Ahmed Al-Sheikh and in the attack Junior Ajay, while it included The formation of mountain wolves: goalkeepers: Mahmoud Abu Al-Saud, line of defense: Amir Abed – Muhammad Samir – Faruqa – Hassan Al-Shami, midfield: Muhammad Majali – Marouf Youssef – Karim Mustafa In the attack, Saif Al-Din Legziri – Shukri Najeeb – Muhammad Salem.
---
---