The artist Hamdi Al-Mirghani celebrated the birthday of the great star Samir Ghanem, who, through a long artistic journey, was able to emphasize his stardom and uniqueness in the world of comedy in cinema, theater and drama as well, and he became one of the kings of comedy and laughter over many years.
And the artist Hamdi Al-Marghani published his photo with the star Samir Ghanem, commenting: "Every year, I attended you, professor of comedy in the whole world every year, and I attended you, the best artist in the whole world … Every year, I attended you, my love, my teacher, and my father .. I love you, our Lord, your hands are health, and makes you for your honorable family. And for your audience in the whole world. "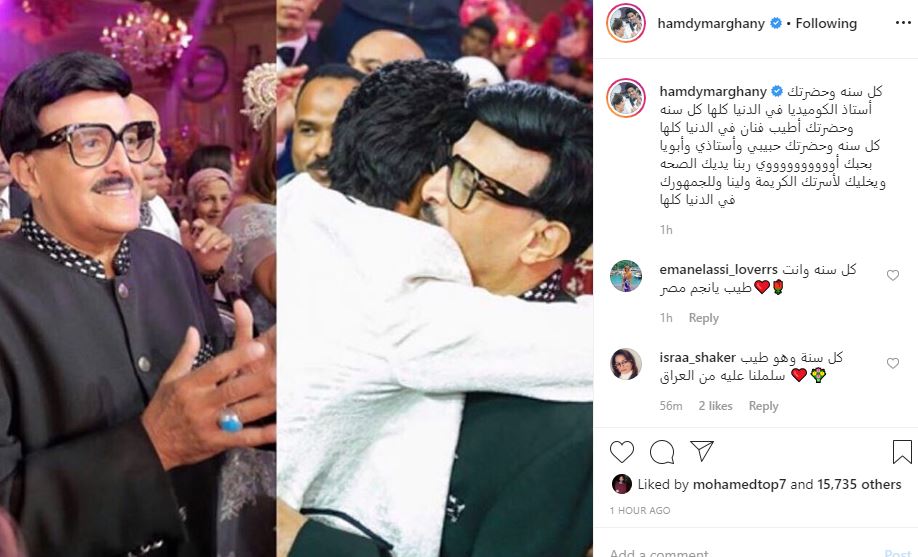 Samir Ghanem participated in many movies, whether with "Three Stage Lights" or in a second role, and he started in 1963 with "Cairo at Night" and then participated in films such as "Ultimate Joy" and "Last Shaqawa" and "Memories of Discipleship" and "The Hooligans", "The Last Jinan", "The Two Brothers", "The Three Adventurers", "The Journey of Happiness", "A Little Over Love", "The Strike of the Shehatans", "30 Days in Prison", "The Hamzah Bag" and "Very Crazy Youth" "The Beach of Fun," "The Second Groom," "Afrah," "Bint Shaqia," "Modern Marriage," "The Thief," "Nashal, despite his nose," "The Fun Squad," "Nar Al Shouq" and "Adwaa." The city "and" warm arms".
Samir Ghanem was also famous for presenting the puzzles, and he achieved fame no less than the phases of Nelly, Sherihan, Amr Fouad and Jeddo Abdo, which he started in 1984 with Fawazeer Fattuta public information, and the journey of Ftuta al-Maghriya and the people of al-Mughni.