She confirmed Syrian actress Slaf Fawakherji, Comment on a villa accident Nancy Ajram, That the law is al-Faisal, stressing that she stands with her countryman if he has the right, saying: "Every drop of blood from it is a puppet, even if Nancy and Dr. Fadi are guilty of sure, they will take their punishment."
Slav wrote, through her account on Instagram: "The law is the judge, unfair and oppressed, and justice on the ground even if in a few proportions, and justice in the sky is greater than all proportions, all people require an opinion or attitude from the artist, and the artist is part of society that must say and tell Certainly, but when things are not complete, its image is not complete, and when it is not in the hands of the judiciary.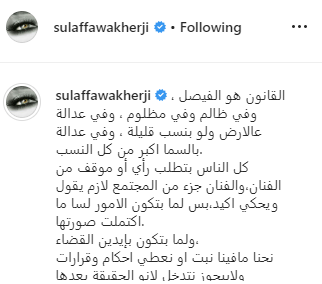 Slav added: "We do not grow or give judgments and decisions and it is not permissible to interfere because the truth after that is not clear and the issue is very thorny, and for all the people who asked me to express an opinion on the issue and as if my decision is the verdict, or just to prove a position or catch up with the race of the media, and the story is not so And greater than the heck, I am stopping the side of the oppressed person, regardless of his nationality, so no one accepts injustice, not if not for others, and it is true that the Syrians did much wrong with his brothers, but the generalization is wrong, and every country is in favor and in good. "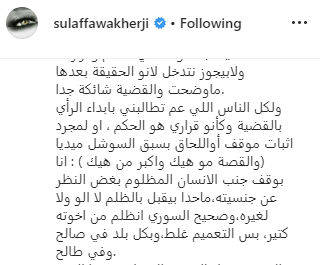 Slav continued: "Nationality is like the name Malu, a relationship in which the structures Adam created with him, and the racists where they were sick people, and with a definite halt with the right of my country, even if it was at the end of the age of God, and every drop of blood from it is puppets, even if Nancy and Dr. Fadi are sure guilty They will take their reward, but the matter is greater than us and from our evaluation, and no one knows it, to the extent that it is a few, and what is certain is that they are not criminals in the first place or sadistic people, but in something that became wrong and unacceptable.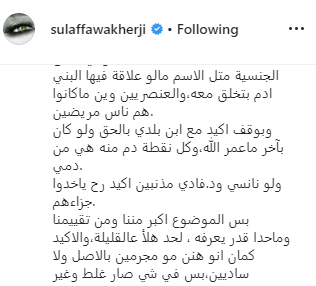 Slav continued, saying: "Sure, they are a good family, we have not heard bad words from them one day, and they have a family and daughters, and the videos that come down, and the songs and moles that do not befit a human being who has suffered misfortune in every sense of the word, and no artist one day gave happiness to people, what I am God Of course, with a mistake, it could turn into a criminal at some point, but not at the moment when he fell, we are criminals.."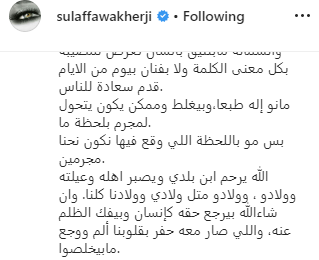 And Slav continued: "God have mercy on my son, and his family, his family, and children, and the birth of the idol of my children and our children, all of us, and God willing, will return his right as a human being and redress the injustice from him, and with whom he has dug with our hearts pain and pain, they will not be saved, and the Lord alone will be saved from the oppressor sooner or later, leave positions Lawyers and judges are far from being the guardians of the community, and every one of us has a problem and a defect, and we are all exposed at the moment of what we are oppressed or unjust, and I am certain in something that we know that has become, and what has become greater than art and fame, in homes and in secrets and in human beings, about us trust With the Lebanese judiciary, we have confidence in the important Syrian lawyers who received the case and you Arab lawyers Elly Attoawa to uncover the truth and with Mohammed Moosa SOLIDARITY, and they all respect and appreciation, and trust us, above all in God just and merciful Rahman, and devoid of human beings Bhalhm not be a commodity Nsouklha. "