The resignations struck the Tunisian Brotherhood movement Ennahda during the past hours, when a number of leaders went out to announce their resignation from that movement led by Rashid Ghannouchi, who became president of the Tunisian parliament, where a member of the Shura Council of the Tunisian Renaissance movement, Ziad Boumakhla, announced on Tuesday that he submitted his resignation from the Movement Party Al-Nahda 'for reasons he keeps for himself.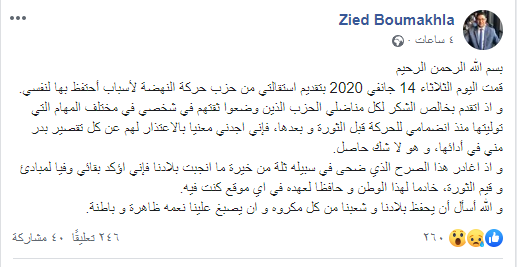 A member of the Shura Council, the Tunisian Renaissance Movement, said in a statement on his official page on Facebook: On Tuesday, January 14, 2020, I submitted my resignation from the Renaissance Movement for reasons that I keep for myself... And as I sincerely thank all the party who put their faith in me in the various tasks that I assumed since I joined the movement before and after the revolution, I find me interested in apologizing to them for all of Badr's failure to perform it, and there is no doubt that occurs.And as I leave this edifice, I ask God that our country and our people be protected from all harm and that its blessings be revealed and hidden to us..
This comes a few hours after the son of the prominent leader of the Renaissance movement, Ali Al-Areed, announced his resignation from the movement, and Hisham Al-Areed did not disclose the reasons for this resignation after more than ten years in which he held positions within the Ghannouchi movement.
Earlier, Munther Qafrash, a member of the Tunisian National Committee, called on Tunisian opposition MPs to remove Rashid Ghannouchi, the head of the Tunisian Brotherhood Movement, from the position of Speaker of the Tunisian Parliament, noting that after the failure of the Brotherhood Renaissance government in Tunisia to gain the confidence of the parliament and its failure to vote after a union Representatives of the opposition against Ennahdha and their refusal to accept the assumption of a Nahdhawi figure to head the government. What was a painful blow to Ennahdha, whose president Rashid Ghannouchi, after the failure, rushed to visit Turkey.


Source link
https://www.youm7.com/story/2020/1/15/%D8%A7%D9%86%D9%87%D9%8A%D8%A7%D8%B1-%D8%AD%D8%B1%D9%83%D8%A9-%D8%A7%D9%84%D8%BA%D9%86%D9%88%D8%B4%D9%89-%D8%A7%D8%B3%D8%AA%D9%82%D8%A7%D9%84%D8%A7%D8%AA-%D8%AF%D8%A7%D8%AE%D9%84-%D8%AD%D8%B1%D9%83%D8%A9-%D8%A7%D9%84%D9%86%D9%87%D8%B6%D8%A9-%D8%A7%D9%84%D8%A5%D8%AE%D9%88%D8%A7%D9%86%D9%8A%D8%A9-%D8%A8%D8%AA%D9%88%D9%86%D8%B3/4587367