Celebrated The star Donia Samir Ghanem Christmas, director Ahmed El-Gendy, and her followers shared a picture that they shared via her Instagram account, and she wrote on it saying: Every year, you are good, my first and last director.
On the other side, the makers of the movie, the star Dunia Samir Ghanem, who is co-starring with the star Hisham Majed, Bayoumi Fouad and Dalal Abdel Aziz, settled on his name, which is "Handing Over the People". It was directed by Khaled Al-Halafawi and written by Sharif Najib. The coming days.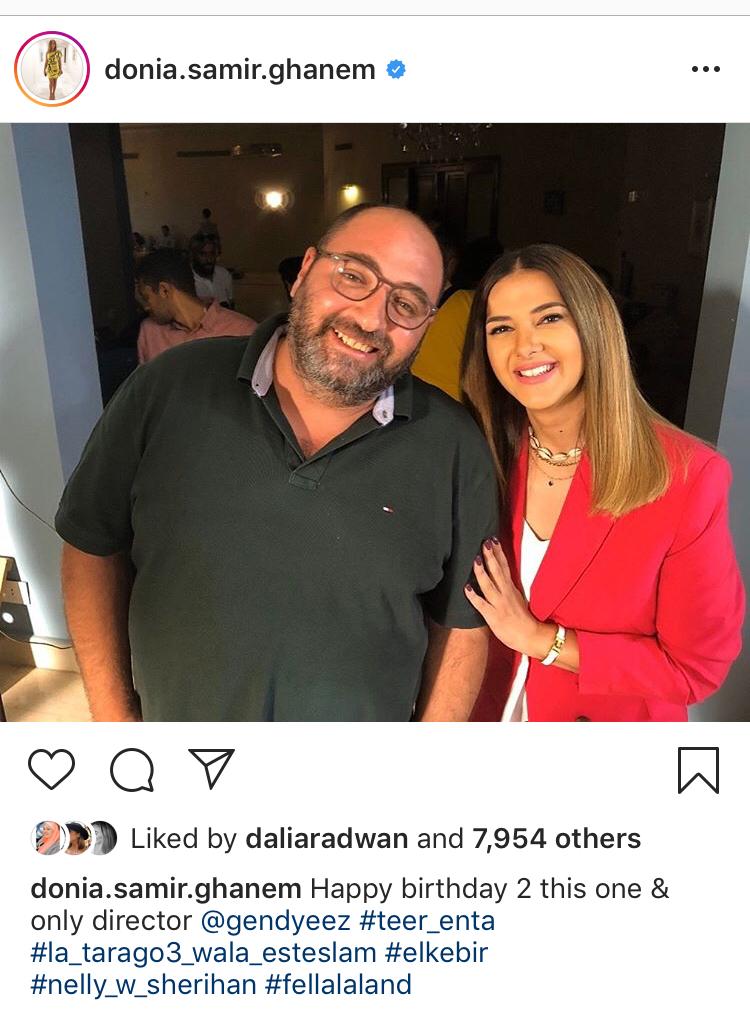 The first cooperation is considered a cinema between both star Donia Samir Ghanem and director Khaled Al-Halfawi, who presented with her in the last Ramadan season the series "Badal Al-Hadouta 3", which achieved great success.
It is mentioned that the artist Donia Samir Ghanem celebrated the arrival of her followers on her Instagram account to 10 million followers, and the young star published an animated picture of her to celebrate this large number of followers for her account, and she said in her comment on the photo, "I love you .. 10 million followers .. 10 Millions of strong bonds, God willing. "
Donia's last work, "Badal Al-Hadouta Three", last Ramadan was in 3 separate tales, each of which carries a story that was presented during 10 episodes. And displayed on the CBC screen.
Also, her latest cinematic film, "Turn and Rotate" with the star Ahmed Helmy, co-starring Sabreen, Bayoumi Fouad, Mimi Jamal and Jamila Awad, directed by Khaled Marai, and written by Menna Fawzi, and his talks revolve around "Nour Qabbani", a tour guide embodied by my dream, and he goes To Sharm El-Sheikh, taking advantage of a honeymoon offer by the company to meet an Italian girl, and there they find a girl called "Laila", embodied by Donia Samir Ghanem, and lives in the same villa that "Nour" Helmy is staying with his family with the same offer that Nour used. … and the family ally with "Laila" to thwart his relationship with "Birla".