Scrambled The media, Wafaa Al-Kilani By interacting with news reported by some artistic sites in the recent period and dealing with incorrect news about the existence of differences or separation between the Lebanese star Tim Al-Hassan and his media wife Wafaa Al-Kilani, where she decided to respond to these news and rumors in her own way, by publishing a picture in which she relates the relationship between her and her husband without You go out to lie in the media.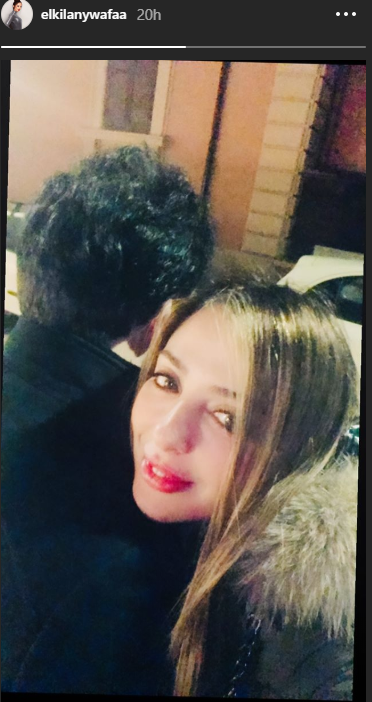 The media, Wafaa Al-Kilani, through her official account on the "Instagram" website, published on Wednesday evening, a romantic picture gathered by her husband, artist, Hassan Al-Hassan, who embraces him to respond to the rumors of their dispute or the separation of the couple who married since May 2017.
It is noteworthy that the artist, Tim Hassan, celebrated in May 2017, his marriage contract to Wafaa Al-Kilani, and surprised his followers on social media by publishing the news of his marriage..
Wafa al-Kilani with Tim Hassan
It is noteworthy that Tim Hassan participated in the last Ramadan season in the series "Prestige 3" starring Sirine Abdel Nour and Mona Wasef and a large group of stars, and starred in the first part of the actress Nadine Nassib Jim, while Nicole Saba was the hero of the second part.
The Lebanese star Sirine Abdel Nour was contracted to star in the third part of the series "The Prestige", which bears the name "Harvest", in front of the Syrian star Tim Hassan, a screenplay and a dialogue in the name of the wire, directed by Samer Al-Barqawi, and co-starring with Mona Wasef and Abdo Shaheen, and was shown last Ramadan, The makers of the series will continue to use a new heroine, in front of Tim, in part.
The Lebanese actress Nadine Nassib Njeim presented the starring of the first part of the "prestige" that was shown in the month of Ramadan in 2017, while her citizen Nicole Saba starred in the second part of the work in Ramadan 2018, so that the makers of the series will continue to use the beautiful Arab stars to stand before Tim Hassan at work Where the Syrian artist's career in the drama is witnessing the standing of many Arab generations in front of him in his works.