Barcelona chose to sign Kiki Sitten, the former Real Betis coach, to replace Ernesto Valverde, who was sacked from coaching the team, after losing the Spanish Super Cup to Atletico Madrid in the semi-finals 3-2.
Who is Kiki Sittin?
Sittin with Valverde
Kiki Sittin was not very popular during football, as the most famous club he played for was Atletico Madrid, and the rest of the clubs are Racing Satinder and Levante.
In his training career that started in 2001, during which he led the club that grew up between its walls, Racing, but it lasted one year to leave, and then supervised several clubs that are not famous before he moved to train Las Palmas and then Real Betis, who left him last May.
With Real Betis the last and most prominent leg of his career so far, he has continued to head the technical leadership of the team for 729 days, and has played 95 games, winning 39, drawing 22 and losing 34.
As for Las Palmas, he continued with him 620 days, during which he played 78 games, winning 26 and drawing 18, losing 34.
Why Barcelona chose to sign Citin? Philosophy and other things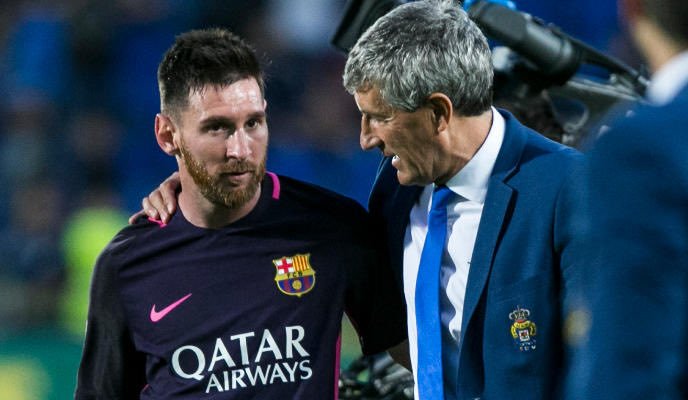 Sittin with the legend Messi
Barcelona is one of the famous teams that choose its coach very carefully, and before anything must play his style of play with the club's philosophy, which is what happened with Valverde who came from Athletic Bilbao, this time with Sittin.
And the veteran coach is known for his passion for fast and short globes style, exchanging centers and building attacks from the rear with goodwill, that is, he closest to Barcelonas famous philosophy of "Tiki Taka".
Kiki relies on high and intense pressure through the midfield players on the opponent's stadium, and during his tenure as Betis coach, the sixtieth coach became famous for relying on frequent moves with and without a ball and possession and the large number of passes until creating diverse spaces and opportunities for attackers in the last third.
Also in building the attacks, he relied with Bettis on starting from behind as the defensive midfield quickly falls next to the center of defense to form triangles with the two backs, which helps the team to transfer the ball quickly with short passes that allow the game to be moved quickly to the attack as the two backs advance.