Recovered The singer is honest Her memories with her late sister with a photo that brings them together, where the singer published a picture of her late sister Azza on her official account on the website "Instagram", today, Monday, and her sister Amina left last July after experiencing a sudden heart attack at her home, who died after her impact and was buried in the family graves in the Al-Amoud area in the Karmouz region In Alexandria, the singer Amina inherited her sister with touching words, at the end of which she asked her fans to pray for her.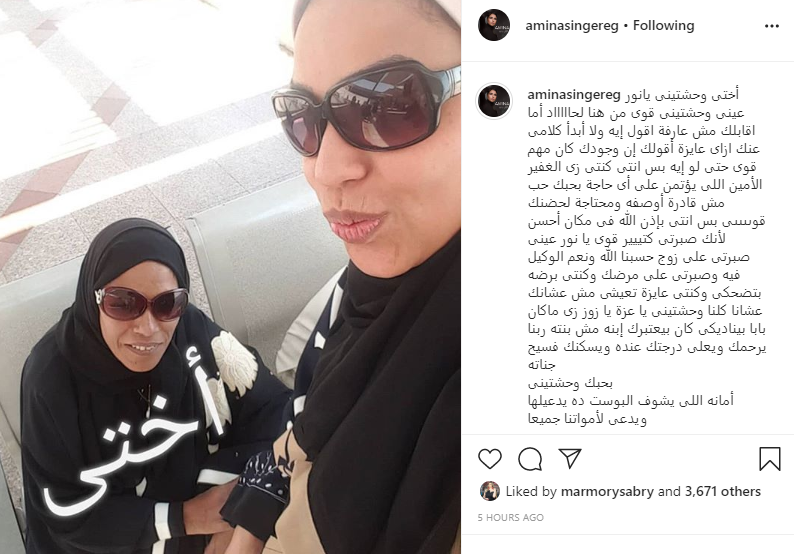 Amina recovers her memories with her sister
An honest message came in her picture with her late sister, which is: "My sister, I missed you, my light, my eyes, I missed you from here, so I did not meet you. I don't know, I say, I do not start my words about you. I want to tell you that your presence was important even if you were just like the faithful who trusted Any need for your love is love, I am not able to describe it, and you need a strong embrace, but you are, God willing, in a better place because you are my patience. I missed you, O Azza, Zouz, as Papa Benadecki was, he was blessed by his son, not his daughter, may God have mercy As your highest level is with him and his dwelling dwells in your love … I love you and my sins … His integrity, which shows this post, calls it and invites all of us to the dead. "
Amina and her late sister
The singer Amina had finished filming a new song called "Iqtal Takteef" on the way of the video clip, and the song was written by Ahmed Ali Musa, composed by Mohamed Abdel Moneim, and the music was distributed by Ashraf El Prince, and it was directed by Jamil Jameel Al-Maghazi, and it was scheduled to be broadcast on a number of Channels during the coming period.
On the other hand, the singer Amina revived the concert "Egypta" organized by the Arab tribes, at Cairo Stadium, last Friday, and the crowd chanted, "Long live Egypt" behind Amina, where the latter affirmed that all Egyptians are one family living in one homeland..
Amina also released her new lyrical album, titled "Elly Rahwa", on YouTube and radio stations, after a long period of work for Amina on the album with poets, composers and musical distributors, to present various and different songs. The new album includes 10 songs, "My Master" The words of Ahmed Marzouk, composed by Muhammad Rahim, and the distribution of Menou, "In Sharia Maine" The words of a fair angel, composed and written by Ahmed Adel, "Long live a monster." The words of a fair angel, composed by Hany Farouk and distributed by Ashraf Al-Prince, "The Evening and His Curse," The words of a fair angel, composed by Mohamed Yahya and distributed by Gezo "My Friends," the words of Walid Riad, composed by Menem, and distributed by Ashraf A. To Prince.
---
---