Face American superstar Tom Hanks, and his wife, Rita Wilson, A letter of thanks to everyone who cared for them after announcing that they had contracted the new Coronavirus "Covid 19", and entered the quarantine. We also reassured everyone about their condition while undergoing health care and observation from the relevant medical teams.
Tom Hanks posted his photo, accompanied by his wife, through his personal account on "Instagram", and said in his comment on it, "Hello guys. Rita and I want to thank everyone here in the quarantine who care about us well .. we have Covid-19 We are in isolation so we do not spread it to anyone else .. There are those who can lead to a very serious disease .. We take them in one day at a time .. There are things we can do all to overcome this by following the advice of experts and caring for ourselves Some, right? .. Remember, despite all the current events, there is no crying in baseball … Hanks. "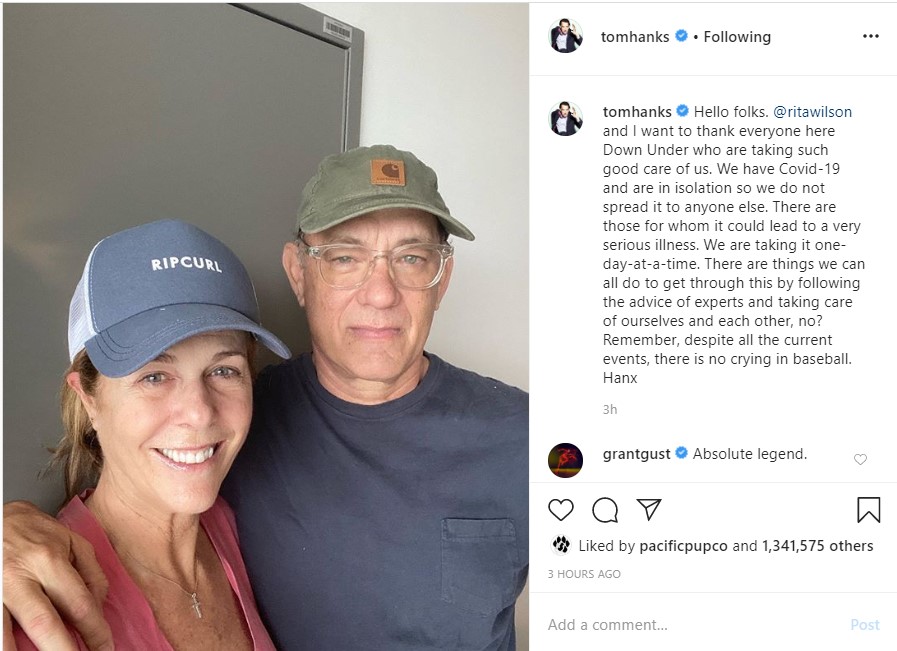 For her part, Rita Wilson, the same picture, accompanied her husband Tom Hanks, through her personal account on "Instagram", and said, "A small update below for all of you and me, Tom Hanks … We are very grateful for the flow of prayers, love and support .. This means a lot and strengthens us … ( Go to the Tom Hanks personal account on Instagram to see the message as the post did not succeed).
It is noteworthy that Chit Hanks, son of American actor Tom Hanks, had revealed the status of his parents after announcing that they had contracted the new Corona virus, stressing that they are subject to all necessary medical procedures and do not have to worry..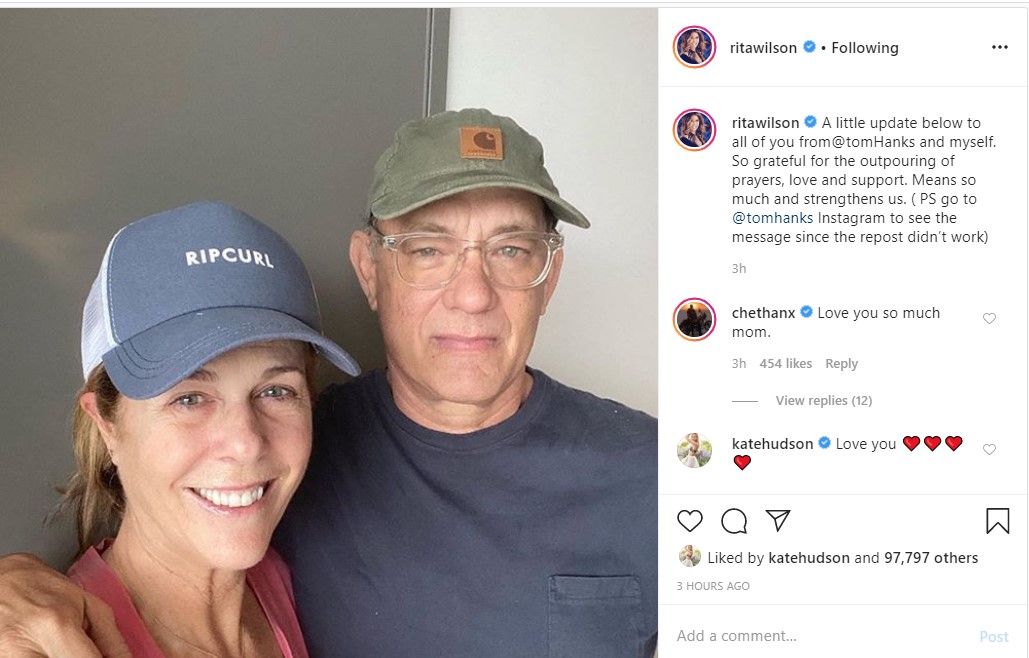 Chit Hanks appeared in a video on his account on "Instagram", Thursday, to explain the fact that his parents were infected with the virus and explain their current status to his father's fans, as he said: "They are not worried but they are subject to all necessary medical procedures .. I do not think there is any reason to worry." .
This comes after world star Tom Hanks announced that he and his wife, Rita Wilson, had been infected with the virus in Australia, through his accounts on Social Media, where he explained that they felt some symptoms and when they tested the result was positive, and a number of international news sites confirmed the news.
Hanks wrote on a photo he posted – then – showing gloves: "My wife and I are in Australia right now, and we've had medical tests showing that we are HIV-positive."
justjared
According to government officials in Australia, new cases of Corona virus in the country include Tom Hanks and Rita Wilson, and the couple are believed to have contracted the disease outside Australia, specifically in the United States, and the site announced that Tom Hanks and his wife Rita are in quarantine isolation at a hospital in the Gold Coast and will spend there 14 Days.
It is reported that Hanks' latest work is film Greyhound, Scheduled for display next June. Hanks will be co-starring with Elizabeth Choi, Stephen Graham, Manuel Garcia Rolvo, Carl Gelsmann, Maximilian Osinski, Lee Norris, Tom Britannin, Rob Morgan, Grayson Russell, Devin Druid, Dave Davis, Michael Benz, Matthew Zuk, Craig Tate.
---
---