Hani Shaker, Has become the name of the artist and captain of the musical profession, hashtag among the most traded on Trend Twitter in Egypt, hours after its launch The song of the hero promisesFor festivals Hassan Shakoush and Omar Kamal, especially since the song took the lead in trend in Egypt, and it achieved nearly 500 thousand views on YouTube within a few hours since its launch.
Tweeters on Twitter responded with sarcastic comments with success Oud Al Batal FestivalAnd festivals challenged the decision of the Captain of Musicians to prevent them from singing in public and tourist places inside Egypt, where through their tweets they expressed the shocking reaction that the artist Hany Shaker will be exposed to after the release of the song "Oud El Batal", and its success in achieving a large number of views within a few hours of its launch.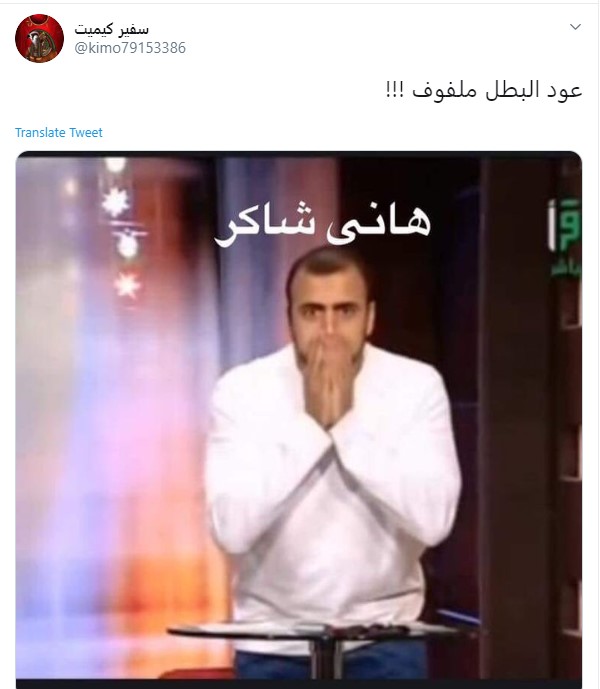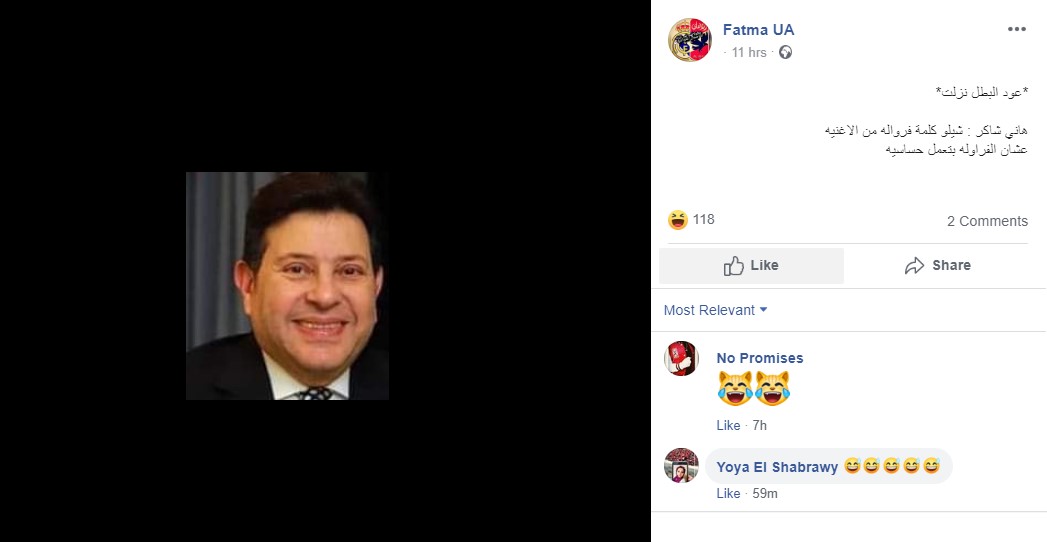 In their comments on the photos of the artist Hany Shaker, Hassan Shakoush and Omar Kamal, in addition to the pictures of the films' films, Fatima said, "Oud Al Batal, I got down .. Hani Shaker: Shilo, a word of strawberry from the song, because strawberries do sensitivity," added Kerlos Atef, "after the Oud Al Batal festival, Hany Shaker: Dolly Baklashouni .. Festivals: 1 .. Hany Shaker: 0 ", as Walaa Shehab published, a picture of one of the films of the artist Karim Abdel Aziz, and I wrote an imaginary scenario for a dialogue between them," Shakoush for Hani Shaker, of course, if I swear to you, he is the promise of the wrapped hero You will not believe me. "
As for Bebo, she published a picture of the artist Ahmed El-Sakka wearing an officer suit in a scene in which he appeared in the series "Ayza Atjouz" by the artist Hend Sabry, and wrote in her comment on the image, "Hassan Shakoush Oud Al-Batal … Hani Shaker: No, you are your heart, he died." And Islam said, "The condition of Hani Shaker after hearing the Oud Al Batal festival … a minute, O group, we understand." Mena Hassan added, "Hani Shaker knows that the Oud Al Batal song has been released," which is the comment that I accompanied with a picture of Tamer Hosni as he drank alcohol in one of his films.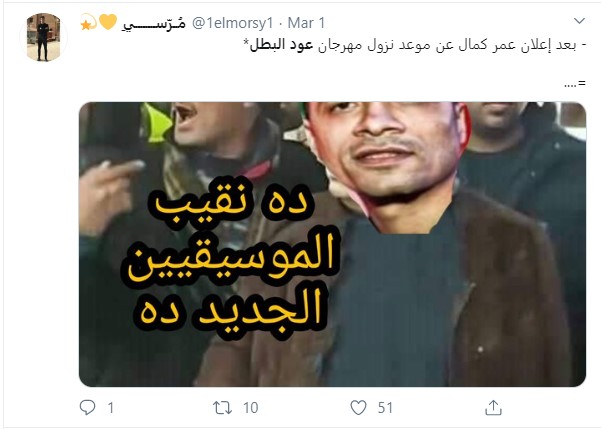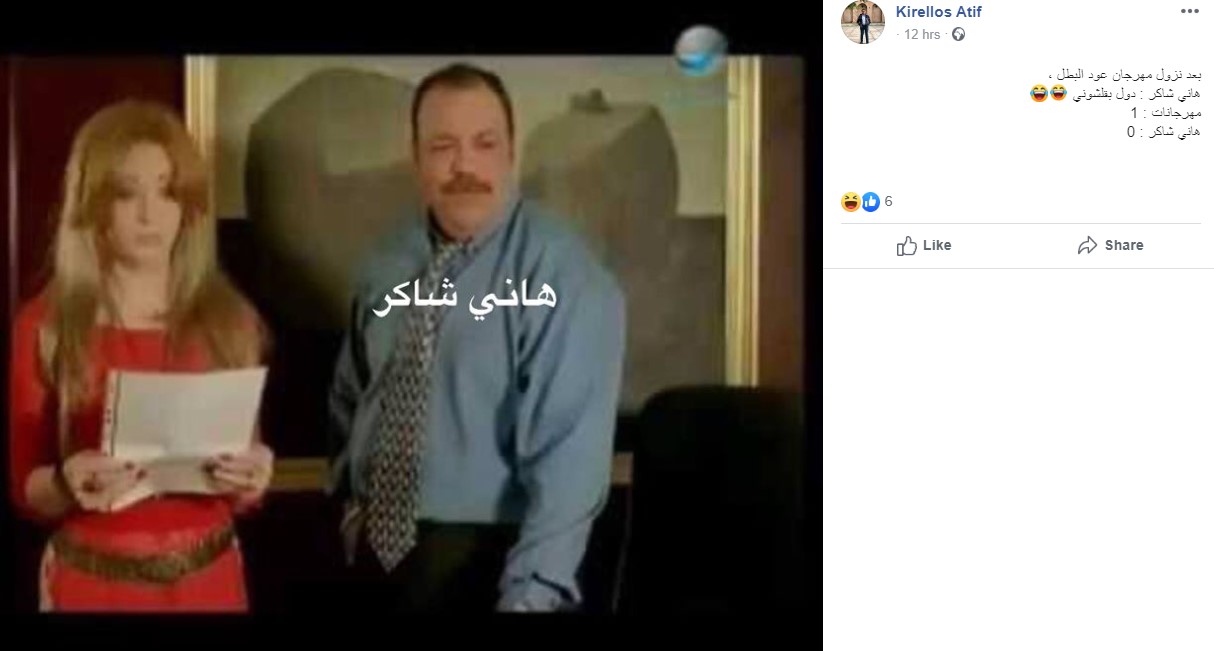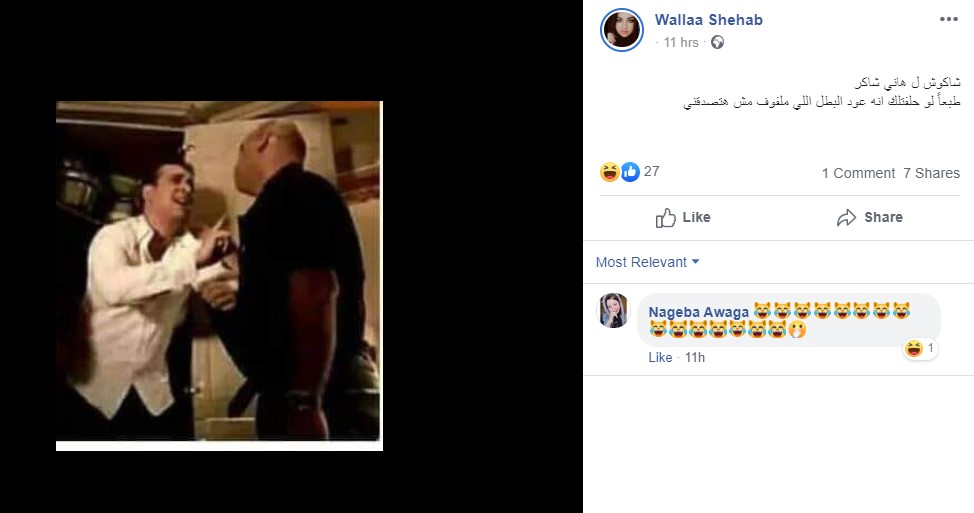 Ahmed Mustafa also published a picture of the musician Helmy Bakr and the artist Hany Shaker, who are in a state of sadness, and said in his commentary, "When they know that the Oud Al-Batal Festival … Trend Twitter … And he answered YouTube 500 thousand views in 6 hours .. He said they prevent festivals, he said." And Isra said, "Oud Al-Batal .. Where are you, Professor Hani Shaker? Is the song your liking or what?", And Yasser Al-Nour also published a picture of the artist Ahmed Adam from the movie "The Night of the Fall of Baghdad", where he embodies the character of Al-Qarmouti, and he wrote in his comment Hani Shaker: Seconds, group. We hear the hero's stick wrapped.