Chancellor Angela Merkel announced that the German federal government, along with the state government, agreed on more precautionary measures and restricting social contacts, to reduce the spread and spread of the new Corona virus "Covid 19".
Through her account on Instagram, the German Chancellor wrote: "In order to prevent the uncontrolled spread of coronavirus infection – Covid 19 – and to maintain the efficiency of our health care system, the federal and state governments have agreed more measures to restrict social communication." General about the most important measures.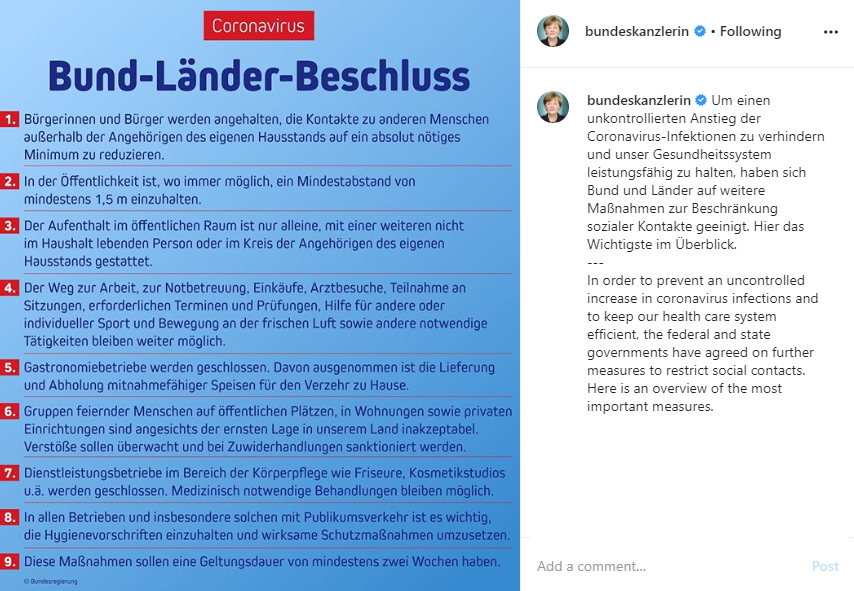 Merkel had announced that no more than two rallies are allowed, except for members of the same family, as well as canceling unimportant events in addition to closing swimming pools, gyms, cinemas, clubs and others.
German Chancellor Angela Merkel decided to isolate herself after she met a doctor who was later found to be infected with the Corona virus, while Germany tightened laws on public gatherings and plans to offer a package of measures to support the economy..
News about Merkel's contact with a HIV-infected person came minutes after she announced banning public gatherings of more than two people, and a number of measures to control the spread of the disease..
German government spokesman Stephen Seibert announced in a statement that the chancellor has decided to isolate herself in her home. She will be subjected to a repeated examination of Corona in the coming days, and will carry out her official duties from the home.
Last Friday, the doctor visited Chancellor Merkel to give her the vaccine for Streptococcus pneumoniae, and Seibert said it would take some time to determine if the counselor herself was infected with the virus, given that the test result will not be decisive yet during this stage.