Topped the star Amr Abdul Jalil Trend Twitter, after the appearance of the "Rais Aziz" character, which embodies it in the end series, and hashtag in his name ranked second in the list of the most actively traded in the Egyptian trend.
Followers spin in its automaticity and outstanding performance, amazed by its representation in the ending series, and the comments came as follows, "Always distinct and different, and you have your place and your own performance … and you cannot stop it. …Amr Abdeljalil..a great actor convinced us that he appreciates any role in the utmost magnificence with a hard work every day to prove that he is an artist who deserves all respect Really rejoicing when any movie or series is shown to him. "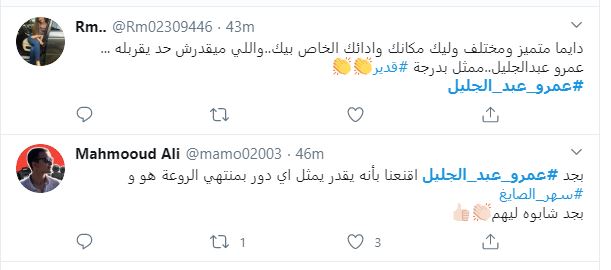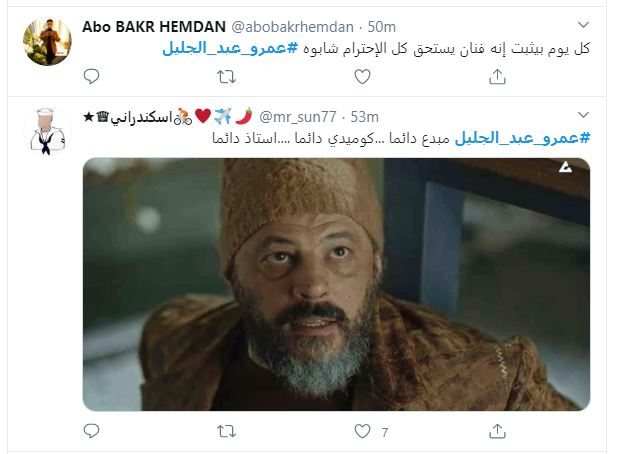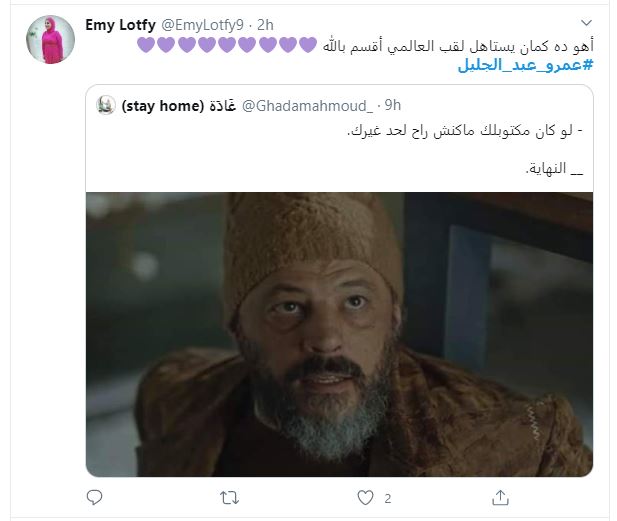 Trend Twitter
The interesting events continued in the second episode of the series "The End", where "Mr. Mounes" Ahmed Wafik made an attempt to track down Engineer Zein to find out the secret of entering a supermarket for two hours and then he left without buying anything, and in fact he sends a Drone plane to watch him to discover that there is a school or educational center and The teacher erases everything that might indicate that it is an educational center, and monitors Ahmed Wafik Engineer Zein "Youssef El Sharif" through the flying device.
It is mentioned that the events of the series "The End" by Youssef Al-Sharif had started with a review of the form of life after 100 years. Life has become a whole "touch" with touch. Every corner of the house turns into a screen through which you can know everything about your health and what is going on around you in the world. Youssef El-Sherif) and his wife, artist Nahid El Sebaei, at their house. The wife washes clothes in a very modern washing machine with a touch, and the husband receives a call from a colleague at work via a screen that opens with the reference signal. And his research, which he is preparing for the cell and solving the crisis of Aqh shows hatred and jealousy of his colleagues in the work of his ideas and Nhaha .
"The End" series, the idea of ​​Youssef El Sharif, a script and dialogue by Amr Samir Atef, directed by Yasser Sami, and produced by Synergy Company, and co-starring Amr Abdel Galil, Ahmed Wafik, Nahed El Sebaei, Mahmoud El Leithy and a number of other artists.