body The star Aser YassinThe character of one of the heroes of the armed forces of the series "Choice", who participated in the war on terrorism in Sinai, and appeared in the events of the third episode of the series "Choice" as an honorary guest next to the action hero Amir Karara, and Aser Yassin participated in his case on "Instagram", the personal photo The truth, which played its role in the selection series, commented: "Captain Al-Zaini, who would have been honored, that I will play his role in the selection."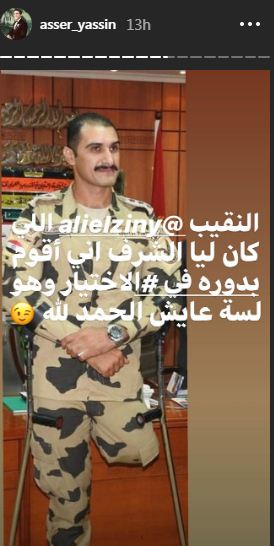 Portrait of the real hero who played the role of Yassin's family
And she had witnessed the third episode of the series "The Choice" of the star Amir Karara, which is shown on a channel ON, Successive events, where Ashmawy remembers his childhood while on the plane heading to Syria, the teachings he received from his father as a child, and transmitted the poisons of the salafist thought in his minds, as well as punishing him when he tried to speak with a girl of his age.
Al-Mansi and his soldiers raided alongside the commander of the parachute force, the officer Ibrahim "Iyad Nassar," the terrorist cell with a well-designed plan to arrest them, as they began to liquidate the guards, and during the raid in the events of the series, the two infidels killed "Ali" – Aser Yasin.
The series "The Choice" starring Amir Karara, Ahmed Al-Awadi, Dina Fouad, Sarah Adel, Dhiaa Abdel-Khaleq and a large number of artists, namely Mohamed Imam Aser Yassin, Mohamed Ragab, Iyad Nassar, Karim Mahmoud Abdel Aziz, Majed Al-Masry, Salah Abdullah, Karim Abdel-Khaleq, Mohamed Ezz, Maha Nassar and others, written by Baher Dowidar It is directed by Peter Mimi and produced by Synergy and prepares highly anticipated works for this year's Ramadan drama.
The series "The Choice" deals with the life of Ahmed Saber Al-Mansi – Commander of the 103th Brigade Battalion – who was martyred in an ambush in the "Square of Perth", in the Egyptian city of Rafah in 2017, during the response to a terrorist attack in the Sinai, provided that the work shows many social and humanitarian aspects In the life of the late hero.