Google searches during the last 3 months revealed the interests of Egyptians during this period, as the majority of searches related to the "Admodo" education platform as well as the Ministry of Manpower and the irregular employment grant, in addition to Corona and how to confront and spread it.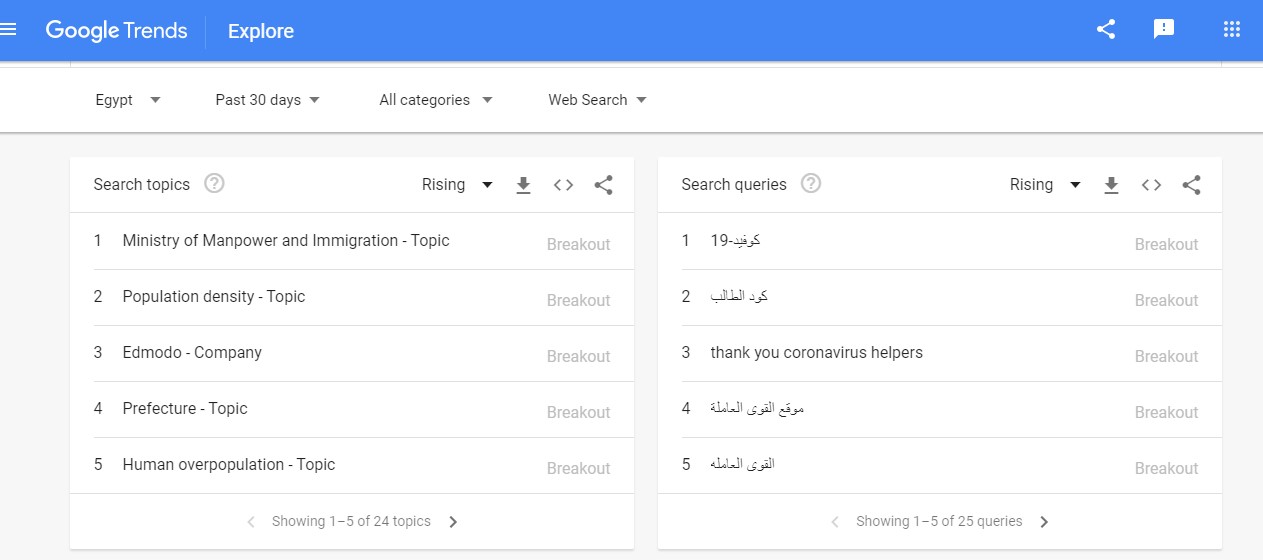 Search on Google in Egypt within 30 days
Top of the searches were "Covid-19", "Student Code" and "Workforce Site", while Knowledge Bank "Admodo" came in 11th place in the searches, regarding research operations in Egypt.

With regard to global searches, we find that Internet searches shift dramatically during the closings of the Corona virus, as people on the web search for ways to keep themselves informed. For example, global data from Google search giant reveals a peak in inquiries Related to baking, exercising at home and shaving, as people are forced to become their own hairdressers.

According to the British newspaper "Daily Mail", most searches in Ireland and Canada indicate attempts to learn more about short hair, followed by the United States and Australia, and the popularity of the game Animal Crossing also rose, with an increase of nearly 1000% in Google searches in America Last 30 days.
According to Reboot Online Marketing, searches on topics related to bread also passed, with the popularity of baking recipes, banana bread, and flour both 733%, 450%, and 335%, respectively.