Kuwaiti actress Hayat Al-Fahd came under a fierce attack from the pioneers of social communication, during the past hours, after calling, during a phone call to the "Crisis and Transgression" program, to expel the arrivals from Kuwaiti lands, on the successor of the outbreak of the Corona virus in the State of Kuwait during the past days, in addition to increasing the number The deaths, as she said in a text: "We are tired, we are not afflicted with them, we are forbidden to be tired, and Kuwait does not bear all of this, as I demanded that no person enter Kuwait during the coming period, and that no permits be issued."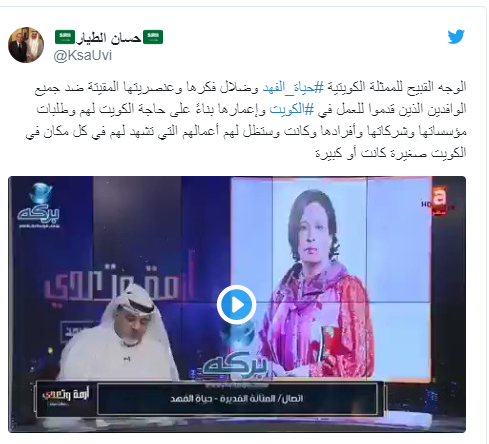 The audience was divided between supporters and opponents of Al-Fahad hadith, and its name was taken on the trend in social networking sites "Twitter", and the negative comments against it came as follows:
"The top racism of an artist who deceived generations, damn all the tears of acting," "boundless brutality," and "a resounding fall of the Kuwaiti artist, God, the helper."".
Another opinion came saying: When they say to you: "Art refines the soul, and the artist belongs to humanity"Please, this is the life of a cheetah from the pillars of Arab and Gulf art, demanding the expulsion of expatriates and foreigners and their dumping in the desert and not being treated !!
Brutality has no limits, even monsters are more merciful than you !!
It is noteworthy that the artist, Hayat Al-Fahd, is one of the most famous stars of the State of Kuwait. She presented many successful TV dramas, and was called "The Lady of the Gulf Screen."