Praised The star Mohamed Imam, director Peter Mimi And his work in directing the series of selection for the star Amir Karara, stressing that he is one of the most important directors in Egypt, expressing his wishes that he will bring them together and repeat the experience again.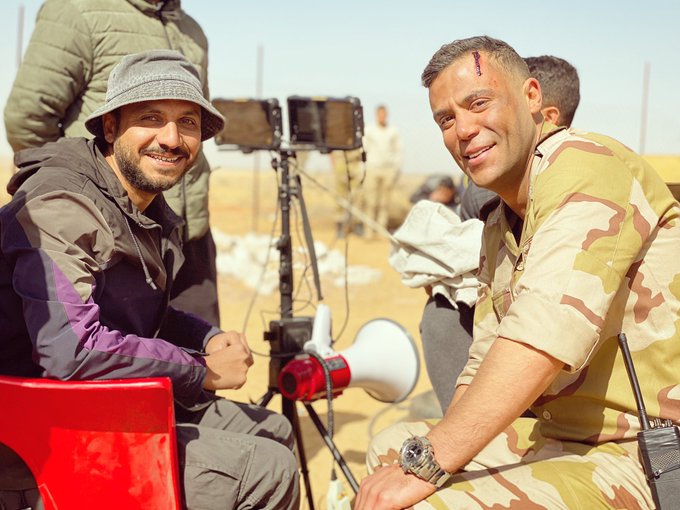 Imam, through his account on Twitter, published a picture with the director Peter Mimi, from the scenes of filming the selection series, and accompanied it with a comment: "Form it like that and take the cinema and the drama for a second new piece, every work that is more successful and stronger than the other, Peter Mimi, one of the most important directors who had in Egypt I very much enjoyed working with him and, God willing, we will repeat the experiment again, joking: "But Amir Karara Yassiba".
Muhammad Imam
On the other hand, the fifth episode of the series witnessed the martyr artist Muhammad Imam's death during the events, in which he embodies the character of Captain Fathi, the officer in one of the ambushes in Sinai after the mortar attack and heavy weapons on the ambush, and during a fierce battle between the ambush force led by Imam and the terrorist groups martyred in Mashhad Very touching hearts.
The fifth episode of the selection series started with strong strikes by Ahmed Al-Mansi and his men, as well as terrorist groups, which claimed a large number of the nation's sons, but Muhammad Imam blows the place with a number of terrorists, sacrificing his life and before him during his contact with the French he tells him before his martyrdom: "I am dying oh Ahmed Qul to your son's mom died a hero.
It is reported that Muhammad Imam had appeared in the fourth episode of the series as a leader with a battalion in North Sinai, and he presented a scene with one of the soldiers overwhelmed by the comedy, where he witnessed a military speaking with his fiancee on the phone, and he told him in a comic way: "You are workers who stoop and love in The phone, and I said no one was speaking on the phone during the service, "to respond to the soldier:" I have spoken to her very strong .. I have addressed her for 3 years, and I have been reassuring about my uncle because he is dying. "In a humanitarian case, Muhammad Imam gave his phone to the soldier to speak with his fiancee, and during that Events A terrorist attack on the battalion occurs, ending the episode.
The series "The Choice" starring Amir Karara, Ahmed Al-Awadi, Dina Fouad, Sarah Adel, Dhiaa Abdel-Khaleq and a large number of artists, namely Mohamed Imam, Aser Yassin, Mohamed Ragab, Iyad Nassar, Karim Mahmoud Abdel Aziz, Majed Al-Masry, Salah Abdullah, Karim Abdel-Khaliq, Muhammad Ezz, Maha Nassar, and others, written by Bahir Dowidar and directed by Peter Mimi, produced by Synergy.
---
---