<
div id="articleBody">
Recovered The media Ahmed Shoubir, the goalkeeper of Al-Ahly and the former Egypt team, Memories of the days of time by publishing an old picture of him, through his personal account on the social networking site "Instagram", and he was content with commenting on it "days of time", which came within a series of old pictures of him published during the past days.
The media, Ahmed Shoubir, the Al-Ahly goalkeeper and the former Egypt team, had recollected memories crowning the title of best goalkeeper in Egypt through his account on Instagram, where Ahmed Shubert joined the Al-Ahly Club from Tanta in 1977 and managed to reach the first team of the Red Castle in 1984 to be the third goalkeeper For the team, in the presence of a gratuity Shahat and the late Thabet Al-Batal.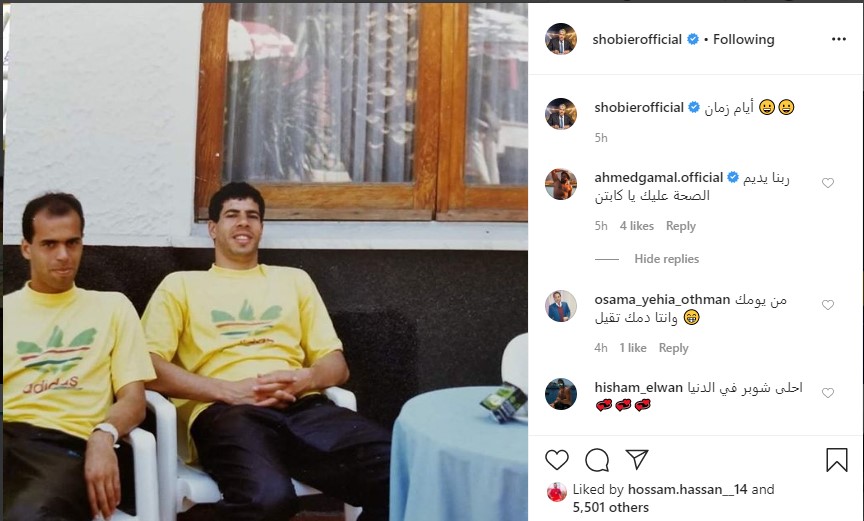 Schubert remained the third goalkeeper for the team for more than seven years, and he was offered to join several clubs, but he refused to give up the red jersey, until he took the opportunity when he played his first official match with the first team against Zamalek in the Egypt Cup final in 1985 when Al-Ahly decided to play with a team of juniors and was Headed by Schubert, Al-Ahly won this match 3/2 and Schubert appeared in the match well, as he managed to tackle a penalty kick.
Ahmed Shouber contributed with Al-Ahly Club in winning many championships, reaching 17 local, African and Arab championships, and the season (1995-1996) is the most famous season throughout his career with Al-Ahly Club, where he combined the League and Cup championships alongside the Arab Championship.
Ahmed Schubert got many personal achievements throughout his career as Al Ahly goalkeeper or the Egyptian team, where he managed to win the title of best goalkeeper in Africa in 1990, 1994 AD and even won the fifth best player in Africa in 1990 AD .
He was chosen by the late Mahmoud El-Gohary to be Egypt's first goalkeeper for the national team in the 1990 World Cup qualifiers in Italy, and he appeared well, as he did not enter his goal except one goal in the England match, and that Schubert was the keeper of the team's den in many Arab and African matches and forums as well. As Schubert played 93 caps for the national team.
Ahmed Schubert represented Egypt in the African Championship in 1986, which Egypt won, and also in the 1992 Africa Championships in 1994, and Schubert held the Egyptian team captain's badge in many matches.
Schubert announced his retirement in 1998 after his team's match against Al-Mahalla municipality and Al-Ahly crowned the league championship, and he appeared in tears and announced his distance from football after he continued in the stadiums until he reached the age of 37 years..