A nurse arrived in Russia at a hospital in the capital, Moscow, "in Beijing" to treat people infected with the deadly Coronavirus, where the nurse wore a transparent protective suit over a "bikini" swimsuit.
No complaints were received from her patients, but the hospital director punished the semi-nude nurse for "non-compliance with the requirements of medical clothing," and the nurse said she did not realize that her underwear was appearing through personal protective equipment.
Russian nurse
However, the Regional Ministry of Health confirmed that "a disciplinary punishment has been applied to the nurse of the infectious disease department who violated the requirements of uniforms," ​​the Sun newspaper reported, and they did not clarify what exactly the disciplinary measure was.
The hospital administration originally claimed that the woman in her twenties was wearing "underwear" – but later explained that the two-piece set was a "swimming suit".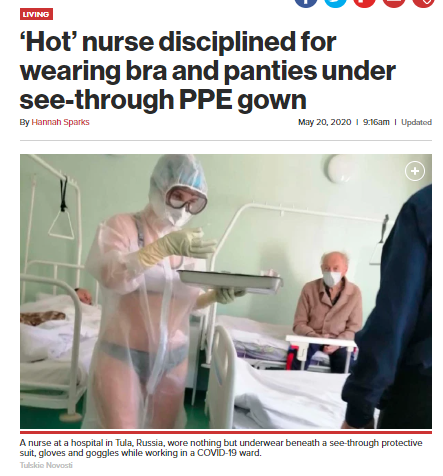 One of the patients, Sergei Ratnikov, said: "At least someone has a sense of humor in this grim gloomy reality." Marina Astakhova added, "Well done, I raised the mood of the patients." Valery Kapnen asked: "Why do you punish the nurse? You need to reward her. See this Tshirt, no one wants to die. "
---
---