<
div id="articleBody">
The artist Ahmed Al-Awadi was keen to share his followers with a new video from inside the gym, where he reviewed a number of skills and exercises that reflect his physical fitness, and the video received a great interaction from his followers.
And last May, it was announced The artist Ahmed Al-Awady His marriage, on his personal account on the social networking site Facebook, without mentioning his wife's identity, except that he suddenly deleted his marriage notice but left him in the details of his account that he is married, and despite the lack of disclosure of his wife's name, everyone attributes it to the star Yasmine Abdel Aziz.
Earlier, director Hossam Ali finished editing the episodes of the series "Seriously Dangerous" by star Ahmed Al-Awadi, in his first absolute championship, and handed his episodes to the seriess producer, who in turn delivered him to a platform.watch it"It is being shown for the first time, and episodes of the series are scheduled to be shown in the coming weeks.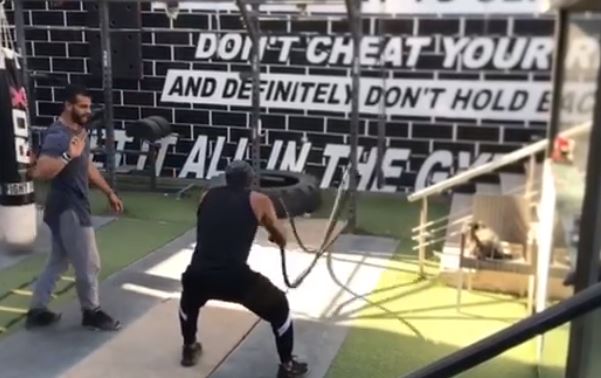 The series deals with the issue of hackers and their danger to national security and their great use in hitting state institutions, where each episode is presented in 30 minutes, and its use is largely to hit state institutions, where each episode is presented in 30 minutes, and the company is scheduled to announce the dates of its presentation during the coming days And the work belongs to the quality of action, consisting of 7 episodes, as it is a new experience that will be presented for the first time in Egypt.
<
div class="imgcontainer">
<img alt="Capture "src =" https://img.youm7.com/ArticleImgs/2020/6/15/47390-Capture.JPG "title =" Capture ""/>