<
div id="articleBody">
Mahmoud Saad, Technical Director of the Football Association, sent an audio message via WhatsApp to the coaches and the media, during which he reassures them about his health and his complete recovery from the Corona virus after the positive sample he underwent more than a month ago, to be isolated at home and then a private hospital.
It included the voice message he sent Mahmoud Saad He fully recovered from the Coronavirus after performing a number of tests and smears, and that the medical staff assisting him advised him to return to practice his life normally and return to work in the Football Association to start his work and that he would be in the Federation during the coming days.
Mahmoud Saad voice message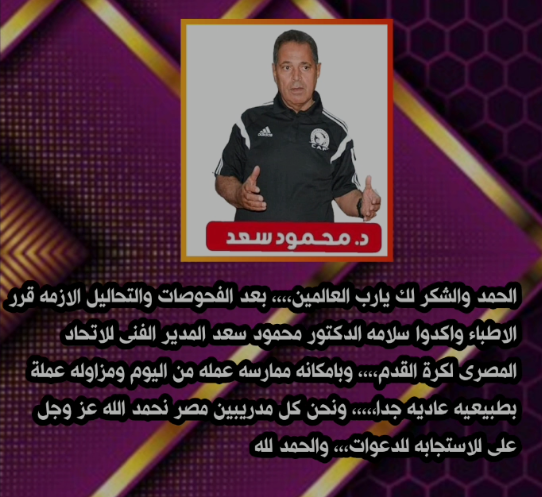 Mahmoud Saad announces his recovery from Corona
The announcement by the Football Association that Dr. Mahmoud Saad, the former star of Zamalek and the technical director of the Football Association, came from the Corona virus, days after announcing that he had been infected and transferred to a hospital to undergo the treatment protocol for the Corona virus before it recovered, to restore the smile to the spherical center after identifying the big star.
A source in Al-Jabalbeh said that the reason for the infection of Mahmoud Saad was his contact with a "stylist" carrying the virus, which led to his injury and isolation with quarantine.
The year 1953 witnessed the birth of Zamalek fans legend Mahmoud Saad, in the village of Khanka in the governorate of Qaliubiya, who demonstrated his passion for football since his childhood, and before his arrival at the age of sixteen Saad joined the starters of Zamalek Club to begin his career with football.
Mahmoud Saad started his career with football early, to be among the players of Zamalek Club in 1968, with a constellation of Zamalek stars in that period such as Farouk Jaafar, Ali Khalil and Ghanem Sultan, and soon the young Saad proved himself in the center of the defender, to be escalated to the first team In 1970, with a number of young players, but he faced difficult circumstances during that period, and the football activity in Egypt stopped during the war of attrition, to find Saad, who was lost in traveling to Lebanon and professionalism there. 1975 to 1981.
Mahmoud Saad achieved four championships with Zamalek as a player, where he won the Egypt Cup with the White Club during the seasons 75,77,79, and he also won the heart of the Egyptian League 1977/78 season.