<
div id="articleBody">
Artist Ashraf Zaki, captain of the actors, announced the departure of a lifetime friend Artist Mahmoud GomaaToday, Friday, after a struggle with illness, he wrote on his Instagram account: "The old friend of the artist and great poet Mahmoud Jumaa passed away."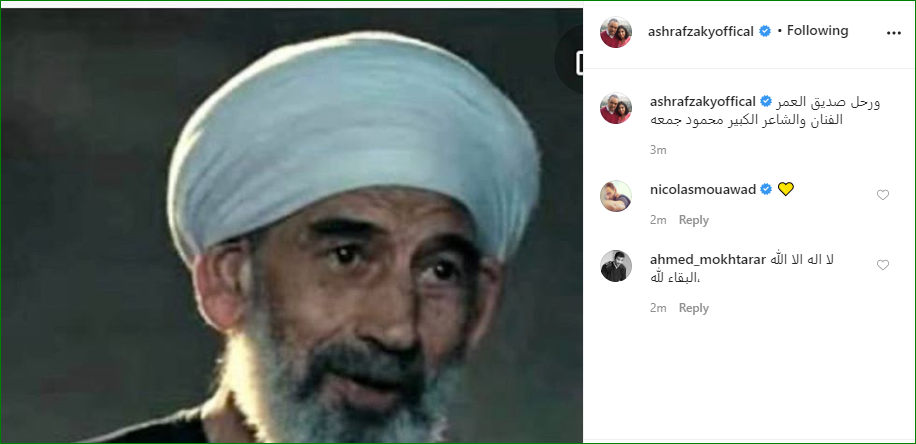 The able artist Mahmoud Jomaa was seriously ill, after which he was transferred to a hospital in the city of Benha, and Mahmoud Jomaa is a well-known artist who loves his passion for work, and he enriched the art with several distinctive works, the last of which was the series "Qout Al-Quloub" with the artist Magda Zaki..
The able artist Mahmoud Jumaa also participated in the series "Bahr" with the artist Majed Al Masry and Diab, the movie "Blue Elephant 2" with the star Karim Abdel Aziz, and the series "Ould El Ghalaba" with the star Ahmed El Sakka, and other various works..
Through it Magda Zaki appears as a worker in a school, and her children graduate from the university object to the nature of her profession, but she refuses to ask them to leave her profession, but at the same time she is looking for another profession to provide her income.
The series is written by Mohammed Al-Hinnawi, directed by Majdi Abu Amira, and produced by "Synergy" by producer Tamer Morsi, and co-starring the series alongside artist Magda Zaki, artist Mohammed Anwar, Islam Jamal, Sahar Al-Sayegh, Rania Farid Shawqi, Amr Sahsah, Mostafa Darwish, Firas Saeed, Norhan, Diana Hisham, Samar Allam, Efram Muhammad.