The Nightingale Asmar Abdel Halim Hafez is one of the most prominent song makers and the most famous singers in Egypt and the Arab world throughout history, as he was able to immortalize his name with his songs of various colors, whether romantic or patriotic and others, which still live in the consciousness of the listeners despite the passage of years and the change of tastes and succession of generations. Al-Halim and his songs did not change and did not affect all these changes, and on this day 44 years ago, the Dark Nightingale passed away at the age of 48 after a long struggle with illness, and we review the most beautiful pictures of the late artist with artists.
Abdel Halim Hafez was born on June 21, 1929 in the village of Al-Hilwat affiliated to the Ibrahimiyyah Center in the Governorate of Sharkia, and his real name is Abd Al-Halim Shabana, and he is the youngest of four brothers, Ismail, Muhammad and Ali. On the father's side, as he lived on the mother's side before, to live after that in the house of his uncle Haji Metwally Amasha.
Abdel Halim Hafiz, Shadia and Youssef Wahbi
He was playing with his cousins ​​in the canal of the village, and from there he transmitted the schistosomiasis disease that destroyed his life, and he underwent sixty-one surgeries during his life, and he joined the Arab Music Institute in the composing department in 1943, when he met the artist Kamal Al-Tawil, and was discovered by the radio station Hafez Abdel-Wahab, who allowed him to use His name is "Hafez" instead of Shabana.
Abdel Halim Hafez was approved as a singer on the radio, and after that he sang (Safini once) the words of Samir Mahjoub, composed by Muhammad Al-Mogi in August 1952 and the fans rejected it at first sight, but he sang it in June 1953, the day of the declaration of the Republic, and it achieved great success, then he presented a song "Ali Qad Al-Shuq", the words of Muhammad Ali Ahmed, composed by Kamal Al-Tawil in July 1954, and achieved overwhelming success, then he re-presented it in the movie "The Melody of Loyalty" in 1955, and with his great success he was dubbed the Brown Nightingale.
Abdel Halim Hafez set out in the world of singing and presented many romantic, dramatic and patriotic songs. He also presented 16 films to the cinema with which he achieved great success at the level of acting, especially as he relied on presenting his new songs, which were very famous compared to the songs he sang at his concerts, he died on Wednesday March 30, 1977 in London
Abdul Halim Hafez in Saudi Arabia
Abdel Halim Hafez in a laughing session in the presence of Souad
Abdel Halim Hafez in the joy of Sadat's daughter
Abdel Halim Hafez and Ahmed Adaweya
Abdel Halim Hafez and the children of his family
Abdel Halim Hafez and Umm Kulthum
Abdel Halim Hafez and Souad Hosni
Abdel Halim Hafez and Omar Sharif
Abdel Halim Hafez and Farid Al-Atrash
Abdel Halim Hafez and Fifi Abdo
Abdel Halim Hafez and Mohammed Abdel Wahab
Abdel Halim Hafez claps to the dance of Souad Hosni
Abdel Halim and Abdel Wahab
Abdel Halim and Farid Al-Atrash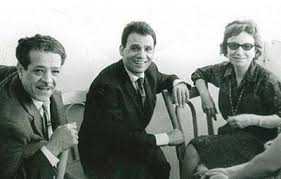 Abdel Halim and Mahmoud Shikoku
---
---