Here Joudeh, a player of the table tennis team at Al-Ahly Club, presented an apology to the club officials headed by Mahmoud Al-Khatib for what happened to her with Maryam Al-Hudhaibi, a table player in Al-Ahly, as the two players spoke inappropriately according to the decision of the Red Castle.
And publication Here is a quality On her page on the social networking site Facebook, a picture of her and she commented on it .. "How many days ago I wrote a post in which I appealed to His Excellency the President of the Republic, the Minister of Youth and the President of the Olympic Committee, in my dream that I am traveling to the Olympic Games in Tokyo 2021, and I never intended to go beyond my presence as a player in the Al-Ahly Club and Al-Ahly It is my home that I was supposed to resort to to address the officials to help me achieve my dream, and when the investigation was carried out and a penalty was imposed on me, I accepted this matter openly … because I violated the club's regulations and was not aware of it, and I apologize to the board of directors of Al-Ahly Club and Captain Mahmoud Al-Khatib for not understanding Of the club's regulations. "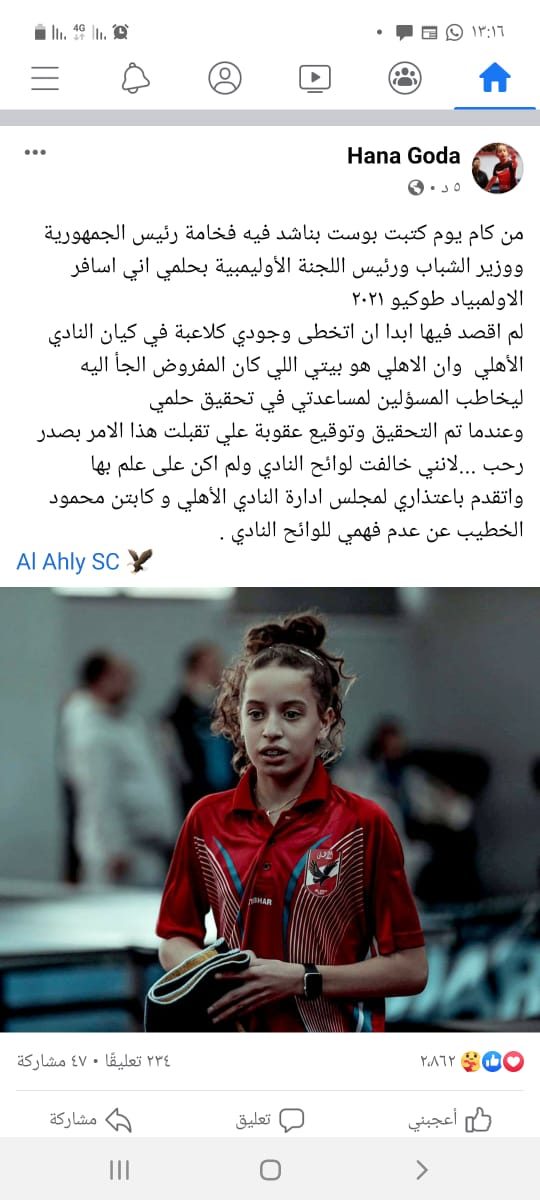 Here is a quality
During the past hours, Al-Ahly signed a fine of 10 thousand pounds on each player after they were investigated in the incident.
she was Here is a quality I posted an appeal to the officials asking them to participate in the Tokyo Olympics, so Maryam Al-Hadhibi, on Facebook, would also respond to the athlete's request.
---
---