The Competitions Committee of the Basketball Federation announced the schedule of matches for the quarter-finals of the Men's Basketball Cup, which will be held on April 11th.
It is scheduled that Etihad Alexandria will meet with the Army's Vanguards, Misr Insurance with Sporting, and Zamalek with Aviation, while horse owners will meet with Al-Ahly, and with regard to the semi-final and final round, the date or place of residence has not yet been determined.
The Basketball Association decided to form a committee to hear the complaint of the Zamalek club to discuss the club's grievance regarding the penalties signed regarding the Al-Ahly match in the eleventh round of the Super League championship, which came with calculating the victory of Al-Ahmar and a fine of 30 thousand pounds, and Zamalek officials were notified of the formation of the committee, which includes all From Magdy Abu Fraikha and Muhammad Abdel Muttalib, in addition to Ahmed Kamel, head of the competitions committee.
The observer of the Al-Ahly and Zamalek match canceled the match after Al-Ahly refused to enter the meeting due to the presence of the masses in the Abdel Rahman Fawzi hall in Mitt Oqba, applying the regulations and the decisions of the Competitions Committee from the beginning of the season, the match hall.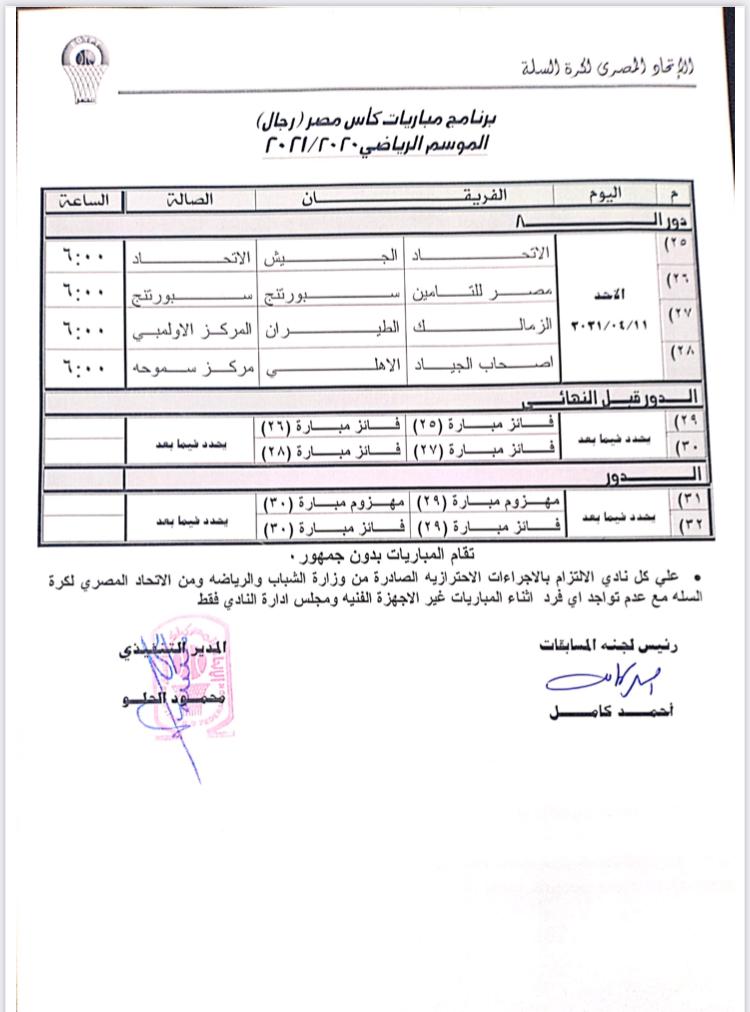 Basket cup table
---
---