The star Mohammed Al-Shenawi, the keeper of the club's den, was keen on Ahly And the national team, for congratulating his colleagues for the victory of the red genie over Zamalek, in the match that brought the two teams together today, and ended with two goals against a goal for the red.
Al-Shennawi, who was absent from today's match due to his infection with the Corona virus, published pictures of the match, in which Al-Ahly players celebrated, and another by Ali Lotfi, Al-Ahly's goalkeeper today, who shone greatly and responded to a penalty kick in the second half of the match. Describing the pictures, saying "the man".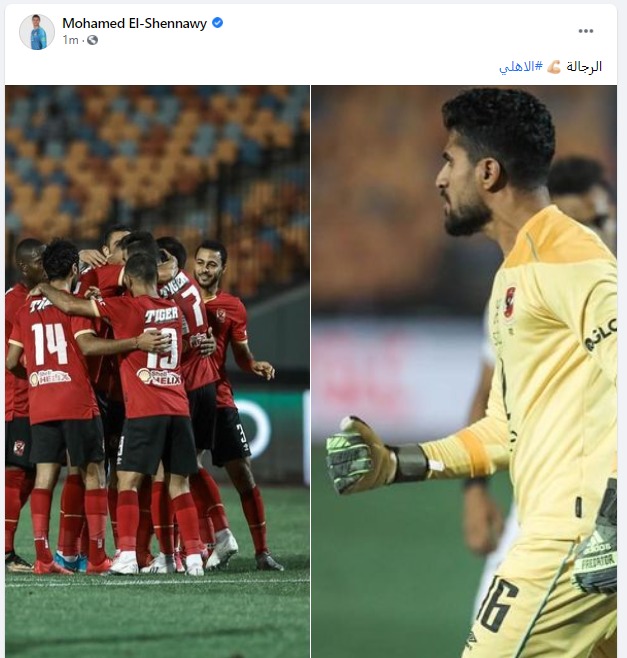 El Shenawy comment on the summit match
Al-Ahly duo Mohamed Sharif scored in the 21st and 34th minutes, while Shikabala scored the goal of Zamalek in the 31st minute, and thus Al-Ahly raised its score to 30 points from 12 games, while Zamalek's score stopped at 33 points from 15 games.
Al-Ahly played the match with a formation consisting of: Goalkeeper: Ali Lotfi. Defensive line: Badr Bannon, Rami Rabia, Ahmed Beckham and Ayman Ashraf. Midfielders: Amr Al-Sulaia, Aliou Diang, Hussein Al-Shahat, Afsha, and Taher Mohamed Taher, offensive: Mohamed Sharif
Zamalek played the match with a formation consisting of .. Mahmoud Jensh in the goalkeeping, in the defense .. Ahmed Fattouh – Mahmoud Alaa – Mahmoud Al Wensh – Hazem Imam, in the middle .. Tariq Hamid – Ferjani Sassi – Ashraf Bin Sharqi – Youssef Obama – Mahmoud Abdel Razek Shikabala, in the attack … Marwan Hamdy.
---
---
Source link
https://www.youm7.com/story/2021/4/18/%D8%A3%D9%88%D9%84-%D8%AA%D8%B9%D9%84%D9%8A%D9%82-%D9%85%D9%86-%D9%85%D8%AD%D9%85%D8%AF-%D8%A7%D9%84%D8%B4%D9%86%D8%A7%D9%88%D9%8A-%D8%A8%D8%B9%D8%AF-%D9%81%D9%88%D8%B2-%D8%A7%D9%84%D8%A3%D9%87%D9%84%D9%8A-%D9%81%D9%8A-%D9%85%D8%A8%D8%A7%D8%B1%D8%A7%D8%A9/5285112