rely the African Union Football is "enough", today, the stadiums where matches will be held African Qualifiers Qualifying for the 2022 World Cup, to be held in Qatar.
According to Kef, Egypt is one of the countries in which the stadiums were adopted for the World Cup qualifying matches, after reviewing the precautions requested by the African Union during the last period..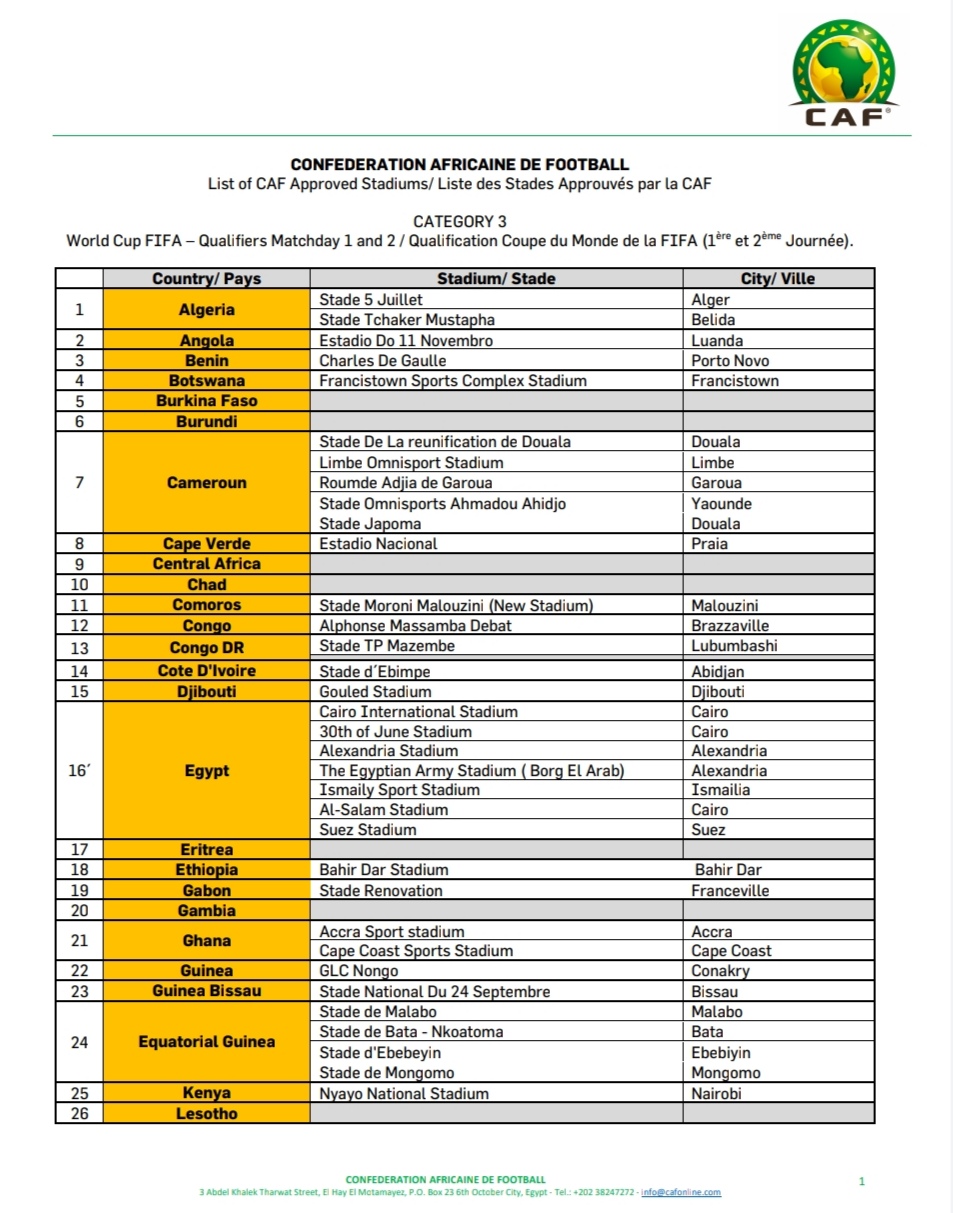 Kef speech
CAF decided to approve 7 Egyptian stadiums that the Egyptian team can play in the qualifiers, while 12 stadiums for South Africa, 7 for Nigeria, 6 stadiums for Morocco, 5 stadiums for Cameroon, and 4 stadiums for Equatorial Guinea.
The list of approved Egyptian stadiums is as follows: Cairo International Stadium, Air Defense Stadium, Alexandria Stadium, Burj Al Arab Stadium, Ismaili Stadium, Al Salam Stadium, and Suez Stadium.
The Egypt national team in the World Cup qualifiers includes Libya, Gabon and Angola, as CAF has approved one stadium for each of them..
Based on sufficient accreditation, the Libyan national team will play its qualifying matches at the Benina Martyrs Stadium in Beni Ghazi, and the Angolan national team will play at the November 11 Stadium in Luanda, while the Gabon matches will be held at the Franceville stadium, which is located in the city that bears his name..
The Confederation of African Football (CAF) announced the dates for the African qualifiers for the 2022 World Cup, including the national team, as the Pharaohs are in Group Six next to the teams of Angola, Gabon and Libya, where the entire group stage is held within four months only, and the top ten groups qualify as A lottery will be held and five matches will be held, to qualify five teams for the World Cup, which will be held in Qatar next year 2022.
Dates of the Egyptian national team matches in the World Cup qualifiers
The dates announced by CAF are as follows:
The first round: Egypt and Angola, a day of 5, 6, 7 or 8 June 2021.
The second round: Gabon and Egypt, one of the days of the 11th, 12th, 13th or 14th of June 2021.
The third round: Egypt and Libya, one of the days 1, 2, 3 or 4 September 2021.
Fourth round: Libya and Egypt, one of the days of 5, 6 or 7 September 2021.
Fifth round: Angola and Egypt, a day of 6, 7, 8 or 9 October 2021.
Sixth round: Egypt and Gabon A day of 10, 11 or 12 October 2021.
The national team had qualified for the last World Cup, which was held in Russia, and was eliminated from the first round after losing from the first group teams, which included Russia, Uruguay and Saudi Arabia.
---
---