The committee in charge of managing Zamalek club denied the reports that the club did not submit a grievance to reduce the punishment of Imam Ashour, the player of the first football team in the club. Especially since the committee lodged an appeal against Imam Ashour's punishment on the appointed date, in addition to another grievance for the five youth team separately..
The committee received a letter from the Football Association about the legality of Imam Ashour's participation in the matches, and the association's response came not to allow the player to participate in matches except after a decision is made on the appeal submitted by the club..
The committee wonders if the collective act is the same, how can the punishment vary between players and get Imam Ashour? 12 games offThe club's official website publishes all the documents confirming its progress in the appeal, sending it by fax as well as by hand, and notifying the union's director of the complete file and sending him a copy as well..
The Disciplinary Committee of the Egyptian Football Association issued its decisions regarding the necessary penalties in the widespread video incident of a number of Zamalek players within the team born in 1999..
The penalties included stopping Imam Ashour for 12 matches and a fine of 200,000 pounds, in addition to stopping 5 other youths, 8 matches, and a fine of 100,000 pounds for each of them.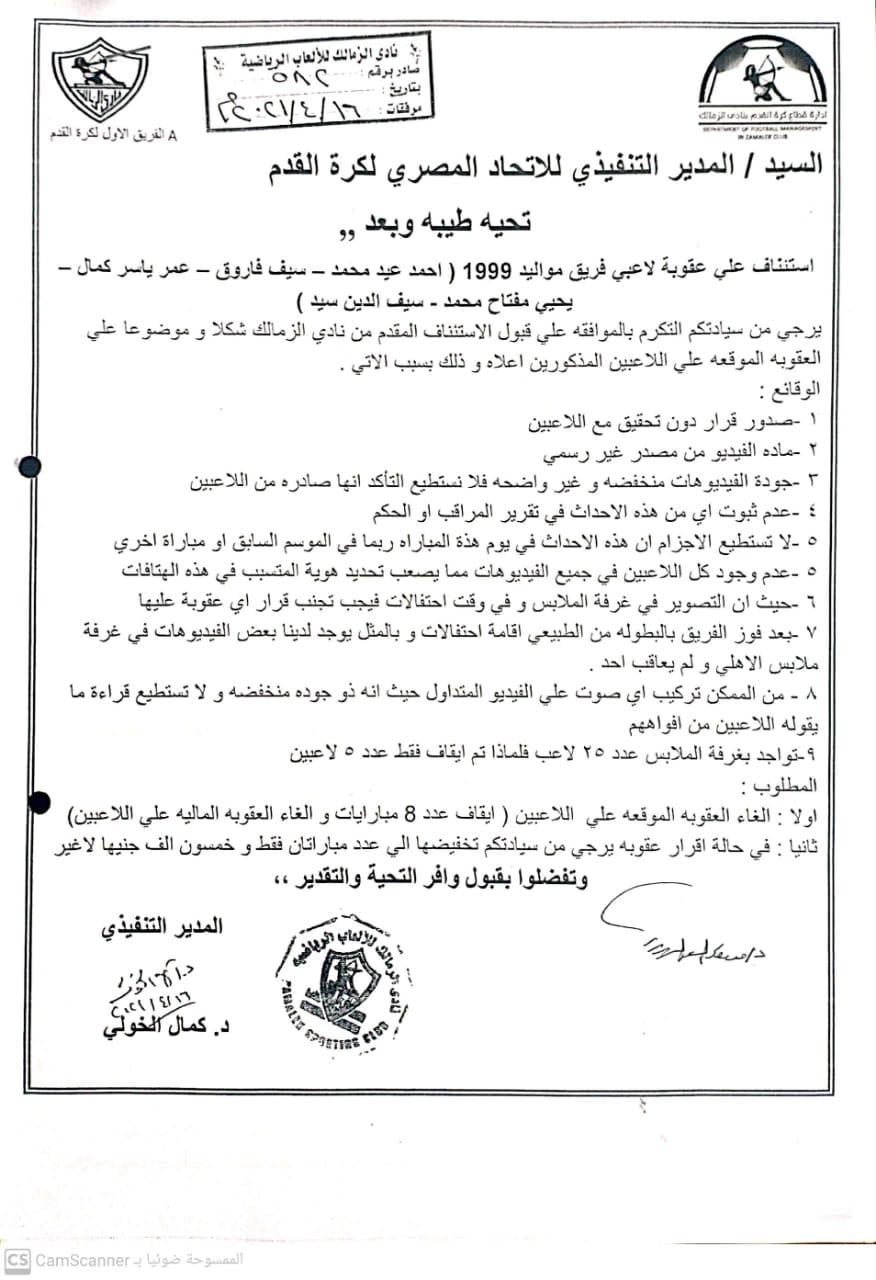 Zamalek grievance against the punishment of Imam Ashour 1
Zamalek grievance on the punishment of Imam Ashour
---
---
Source link
https://www.youm7.com/story/2021/5/2/%D8%A7%D9%84%D8%B2%D9%85%D8%A7%D9%84%D9%83-%D9%8A%D8%A4%D9%83%D8%AF-%D8%A7%D9%84%D8%AA%D9%82%D8%AF%D9%85-%D8%A8%D8%A7%D8%B3%D8%AA%D8%A6%D9%86%D8%A7%D9%81-%D8%B6%D8%AF-%D8%B9%D9%82%D9%88%D8%A8%D8%A9-%D8%A5%D9%85%D8%A7%D9%85-%D8%B9%D8%A7%D8%B4%D9%88%D8%B1/5302685