We knew them with their star husbands and considered their pictures with their partners in art and marriage as icons of love and romance, but we did not see the complete picture, or we do not want to admit that the stars have other lives than the ones we know and other husbands other than the ones we loved their pictures with.
We loved the pictures of Faten Hamama and Omar Sharif, and we forgot that the lady of the Arab screen separated from the international artist, and there was another man in her life who loved him and was devoted to him until her death, and he is Dr. Mohamed Abdel Wahab, head of the radiology department at Qasr Al-Ainy.
Faten Hamama with her husband, Dr. Mohamed Abdel Wahab, on a fishing trip
We loved the works and pictures of Fouad Al-Mohandes and Shwikar, but not many people know that each of them had another married life before his association with the other. He fell ill and left her a widow at the age of 18, while the artist Fouad Al-Mohandes was married before Shweikar to the mother of his children, Mrs. Effat Sorour Al-Sirjani, who was the first love in the life of the engineer, and the daughter of the neighbors whom he loved for a long time. Al-Sharq Umm Kulthum, who saw in the daughter of his neighbors a great resemblance to her, fell in love with her and married her and had his two sons Ahmed and Muhammad before his marriage to Shwikar.
Shwikar with her first husband
Fouad Al Mohandes and his first wife, Effat Sorour
While we sing about the love story of Warda and Baligh Hamdi, which was translated by dozens of romantic songs that Baligh composed for Habiba Omar Warda before their marriage and even after their divorce, and while many pictures of Warda and Baligh Hamdi spread, many did not see a picture of a rose's wedding to her first husband, Officer Jamal Kassiri, Undersecretary of the Algerian Economy, who She gave birth to her two sons, Riad and Wedad.
Warda and her first husband, Jamal Qusiri
While the great artist Shadia was associated at the beginning of her artistic life with a love story with the great musician Farid al-Atrash and they had an unfinished marriage project, and the great artist married the great artist Imad Hamdi for 3 years from 1953 until 1956 and from the great artist Salah Zulficar, and many saw her pictures with These stars, perhaps not many have seen and did not know the story of her short marriage to the engineer Aziz Fathy.
Shadia with her husband Aziz Fathy
Shadia announced her marriage to Aziz Fathi on January 20, 1958, who was working as an engineer on the radio at the time and was younger than her in age. Her aunts, Zuzu Shakib and Mimi Shakib, played a role in completing this marriage, and the divorce occurred between them in June 1959 because of his intense jealousy for her.
While we love Shadias pictures and films with the great artist Salah Zulficar, many may not have seen the pictures of the great artist with his first wife and the mother of his sons Ahmed and Mona, whom he married while he was a teacher at the Police College before his work in the artistic community.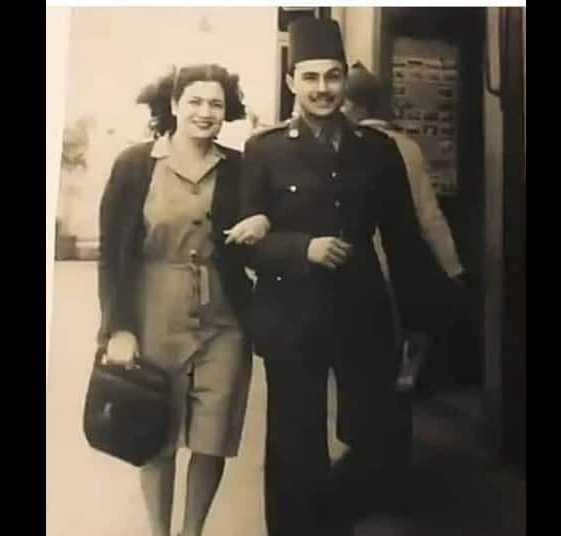 Salah Zulfikar with his first wife
In this report, we present a number of rare pictures of art stars with their husbands who were not in the spotlight, and many did not see pictures of these stars with them because they were in the shadows away from the lights of art.
---
---