The Turkish Foreign Ministry published a statement commenting on the embarrassing situation faced by the Galatasaray team in Greece.
Galatasaray, which includes Mustafa Mohamed, was supposed to play a friendly match against the other Egyptian professional team, Ahmed Hassan "Koka", but the Greek authorities refused to enter the Turkish team due to Greece's failure to adopt the PCR tests carried out by the Turkish team.
The statement of the Turkish Foreign Ministry came as follows:-
Foreign Ministry Spokesperson, Ambassador Tango Bilgic, responded to a question regarding Greece's mistreatment of our Galatasaray football team.
The Galatasaray football team traveled to Athens on July 12 on a private plane to play a special match with Greek club Olympiakos on July 13.
Not considering the team's negative PCR tests and ordering new tests from all of its members is far from polite and well-intentioned.
The Galatasaray team made the right decision to return to Turkey, following the bad and arbitrary treatment they received from Greece.
Greece's reception of one of the oldest Turkish teams in this way reflects the extent of its fanaticism against Turkey, even in the field of sports.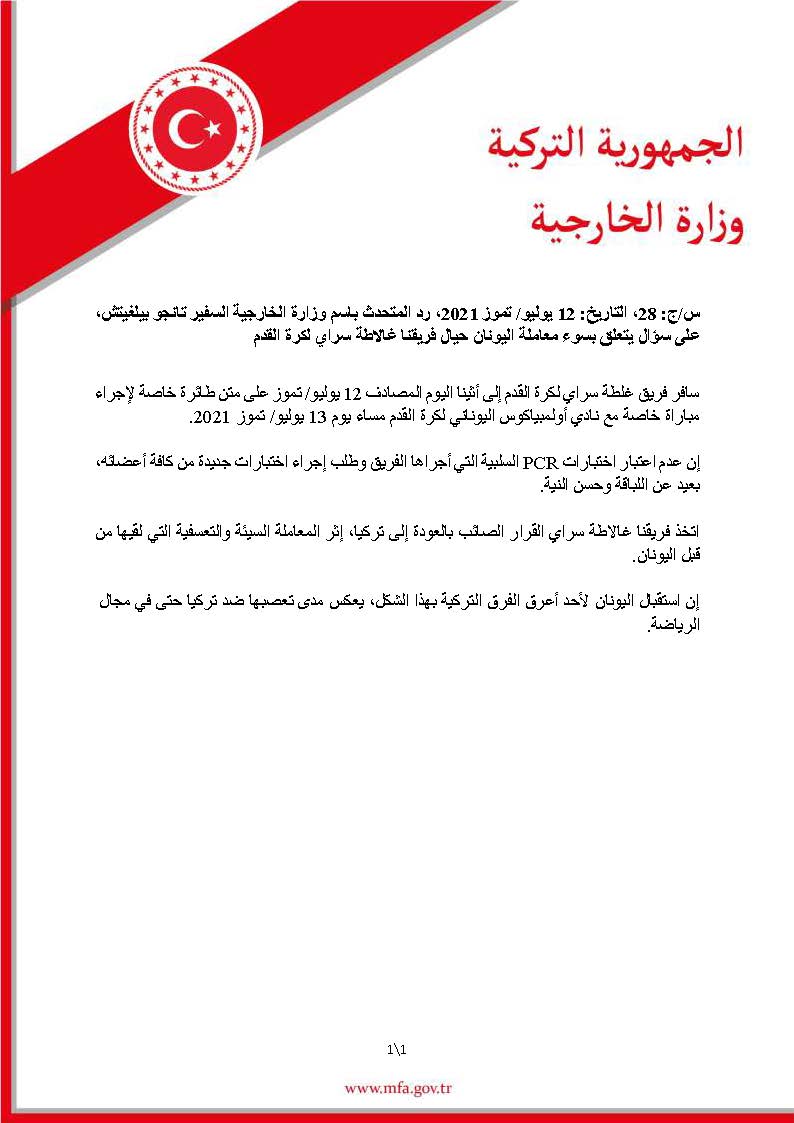 Following the incident, Galatasaray issued a statement saying: "We carried out everything the Greek side requested, such as PCR and Rapid Test 48 hours before entry, in addition to the certificate of obtaining the vaccine."
And the statement added, "The Greek authorities then decided not to enter us because our PCR analysis was not accepted, and they ordered us to repeat the analysis in an improper manner."
The Turkish club channel reported that the Greek authorities did not even provide the Turkish team with water during the waiting period, and refused to give them a place to wait inside the airport.
The club's channel stated that the team was supplied with water only after the intervention of the Turkish ambassador to Greece.
---
---