The marriage of Mohamed Rashad and Mai Helmy witnessed many crises since his first day after canceling the wedding minutes before its scheduled date, before the duo returned and announced reconciliation, and after successive crises between the two decided to separate permanently, and since this separation, each of them lurks for the other.
After the crisis of the presenter Mai Helmy, her suspension from her program and her referral for investigation after Ahmed Saleh withdrew due to her sharp conversation with him, Muhammad Rashad published a new response to the crisis of his ex-wife, and the decision to prevent her from appearing on any media outlet inside Egypt, and said: "How beautiful is the stage of maturity, when You don't care about the late reply, you don't care about knowing anything about anyone."
Rashad continued: "You are not curious to know something that does not belong to you, you are satisfied with yourself, your family, your work, and your friends, and you do not feel your need for justification and do not wait for excuses or anything else."
This response is considered the second comment by Mohamed Rashad about Mai Helmy's crisis, as he had previously published a clip of his song, "I'm Not Shamtan", hours after the news of the investigation with Mai spread and many of his fans interacted with him through the comments.
The words "I am not gloating," and "I do not wait for an apology," sparked a storm of controversy on social media, between a group that welcomed what he wrote, and another group blaming him for gloating over his ex-wife in light of the crisis that occurred in her.
It is noteworthy that Al-Hadath channel today decided to stop the media, Mai Helmy, and turn it into investigation after Captain Ahmed Saleh withdrew because of her sharp talk with him, and the Media Syndicate decided to prevent her from appearing on any media outlet.
Mai Helmy responded after announcing the cessation of her program "Al-Hakam", with a video of her inside Dubai Airport, noting that she is currently in Dubai, commenting: "What? Bye Bye", and Mai also published a story through her account on the Instagram website, in which she wrote, "Zang yourself in any need." Take me with you, I will not die myself."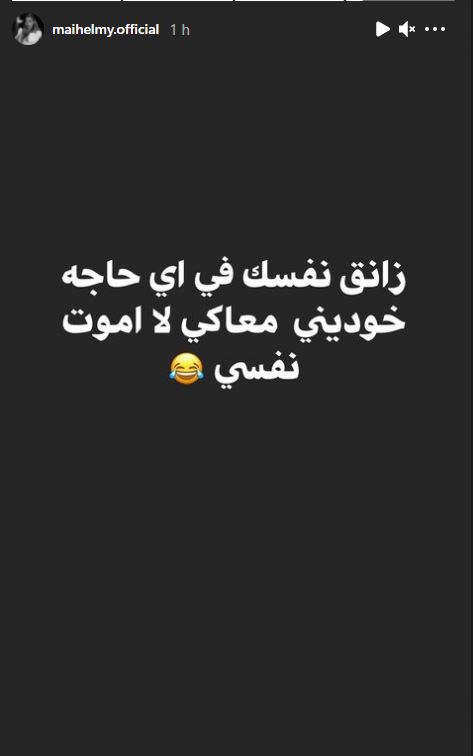 Mai Helmy
---
---