Al-Ahly club is in the first classification before the group stage draw of the African Champions League, while Zamalek is in the second classification, after the two Egyptian football poles qualified for the group stage stage of the tournament.
Al-Ahly qualified for the group stage of the African Champions League, after defeating the National Guard, the champion of Niger, 6-1 in the second leg of the 32nd round, taking advantage of a 1-1 draw in the first leg..
Meanwhile, Zamalek qualified for the group stage after beating Kenyas Tusker 5-0 on aggregate.
First classification: Al-Ahly, Esperance, Wydad and Raja
The second classification: Zamalek, Etoile du Sahel, Sun Downs, and Houria Conakry
The third classification: Al Hilal, CR Belouizdad, ES Setif and Petro Atletico
Fourth Classification: Mars, Sagrada, Amazulu and Galaxy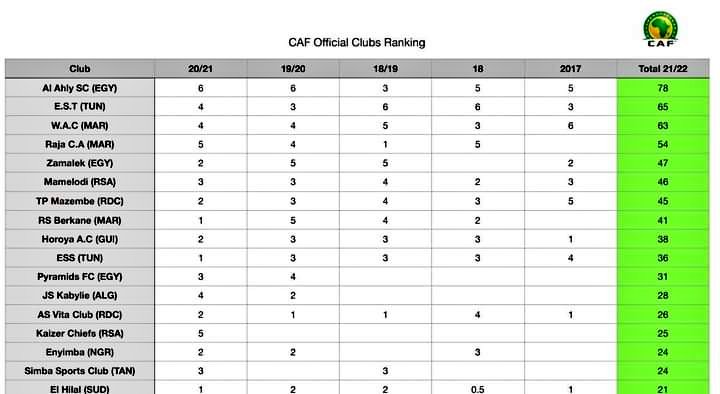 CAF Champions League Final Ranking
Before the group stage draw, the 16 clubs qualified for the group stage will be divided into 4 levels, with 4 teams at each of the levels..
It will not be possible for any team to meet another team at the same level, as each group will consist of 4 teams from the 4 levels.
These levels will be divided based on the club classification issued by the Confederation of African Football, where the first 4 teams will be at the top of the 4 groups.
---
---
Source link
https://www.youm7.com/story/2021/10/24/%D8%A7%D9%84%D8%A3%D9%87%D9%84%D9%8A-%D9%81%D9%8A-%D8%A7%D9%84%D8%AA%D8%B5%D9%86%D9%8A%D9%81-%D8%A7%D9%84%D8%A3%D9%88%D9%84-%D9%88%D8%A7%D9%84%D8%B2%D9%85%D8%A7%D9%84%D9%83-%D8%AB%D8%A7%D9%86%D9%8A%D8%A7-%D8%A8%D8%AF%D9%88%D8%B1%D9%8A-%D8%A3%D8%A8%D8%B7%D8%A7%D9%84-%D8%A5%D9%81%D8%B1%D9%8A%D9%82%D9%8A%D8%A7/5507241