Al-Ahly's technical staff, led by South African Pitso Musimani, was keen to visit the mother of the late Mohamed Abdel-Wahab, the former Al-Ahly player.
Mossamiani, along with more than one member of Al-Ahly's technical staff, visited the family of the late Mohamed Abdel Moneim this afternoon, Thursday, in the hometown of the late player Mohamed Abdel Wahab Faki Fayoum.
The visit included Musimani, Sayed Abdel Hafeez, the football director, Dr. Ahmed Abu Abla, the team doctor, and Michael Yancon, the goalkeeper coach.

Al-Ahly team resumed its training this morning at the Touch Stadium; In preparation for the Sudanese Al Hilal match scheduled for next Sunday evening in the sixth and final round of the group stage of the African Champions League

The team performed its training today at the Touch Stadium after the end of the rest period that it obtained yesterday, according to the agenda set by the technical staff for the preparation of the Al-Hilal match, during which Al-Ahly seeks to resolve its qualification to the quarter-finals in the tournament and take a new step in the African journey.

The team went through a prolonged physical session in the "gym", and then went for a warm-up period with the ball inside the touch court under the supervision of Capello, the load scheme, before engaging in ball exercises, which included many technical and tactical aspects.

Ali Lotfi and Mustafa Schubert also participated in a solo training session under the supervision of Michael Yancon, the goalkeeper coach, before the start of the group training and participation in the division of the ball.

Pitso Mosimane, coach of the team, was keen to hold a lecture with the players before the start of the training; To talk about all the technical aspects of the Al Hilal match
Ahmed Abu Abla, head of the club's medical system, confirmed that the x-rays conducted by Rami Rabia proved that he had a torn hamstring muscle and needed a treatment period ranging from three to four weeks.. While Mohamed Abdel Moneim started running around the stadium before participating in part of the group training tomorrow, With the help of a protective nose, medical examinations confirmed that Hamdi Fathi's injury is a bruise in the shoulder, and that the player's condition is largely reassuring, and he is subject to a new medical examination tomorrow.
Mosmosani and Al-Ahly's technical staff visit the mother of Mohamed Abdel-Wahhab
Musimani with the mother of the late Mohamed Abdel Wahab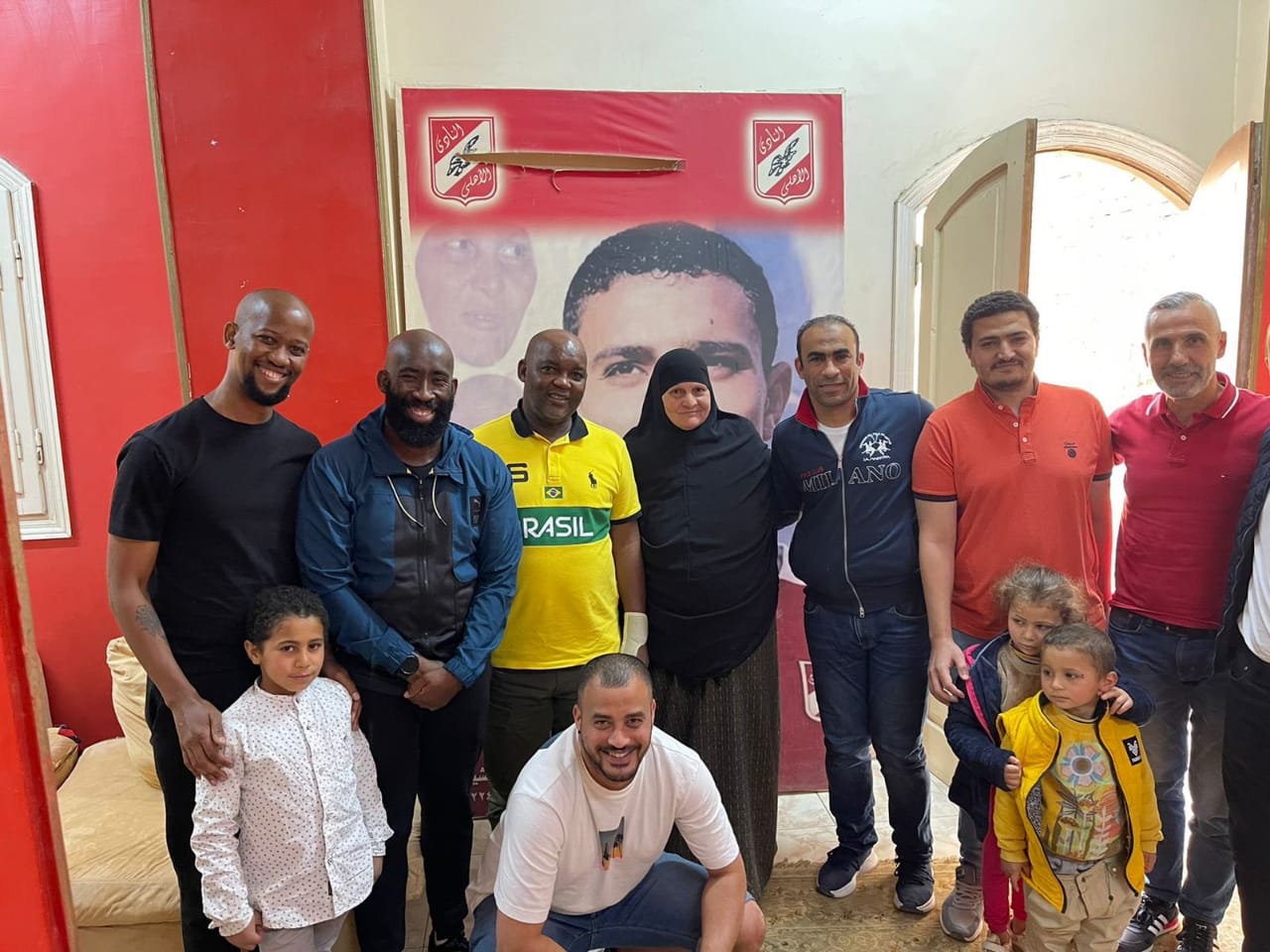 Abdel Wahab's family with Al-Ahly's technical staff
---
---